Online sellers making a bad impression on customers due to long delivery times are risking more than their good reputation. They can also be taken to court for failure to meet shipment deadlines.
Organising warehouse work doesn't have to be difficult! By following a few rules of logistics, your warehouse operations can run smoothly as well.
What are they? We're going to find out in this article.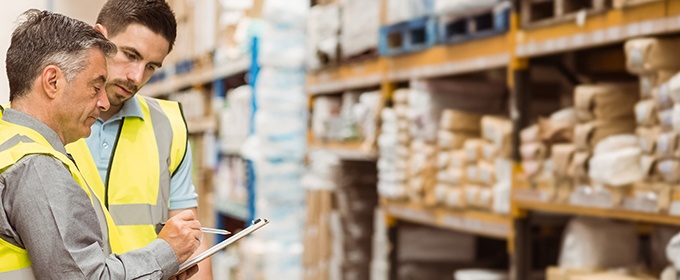 The golden rules of warehouse organisation
The level of organisation needed in a shipping warehouse mainly depends on the number of products you need to store.
One or two shelves in the garage might be enough for a seller running their own business on Etsy.
However, when the product range expands and there are more and more shipments, online shop owners will quickly reach their efficiency limits. In cases like this, sellers will need a bigger space (i.e. shipping warehouse) and staying organised can definitely be challenging.
Warehouse Zones
In most cases, a warehouse divided into three parts will be sufficient for an online shop.
1. Receiving Area (incoming goods)
This is where the completeness and quality of products are checked immediately after they're delivered to your warehouse. At this point, the supplier can also collect empty Euro-pallets.
The receiving area can also be used as a temporary storage area if the delivered pallets have not yet been unpacked.
2. Order Picking Area
This is where individual units of the various products are stored. Ordinary shelf racks or push-back racks will be sufficient in most cases for employees to gather products.
3. Shipping Area
This is where the products are packed, prepared and forwarded for dispatch. Rotating goods (i.e. goods that ship frequently) can be stored in the shipping area of the warehouse for a short period.
In this way, frequently-shipped goods can be picked directly from the pallet. This saves time and shortens the picking route. For large shipping areas, rotating goods are stored in the pre-order processing zones in the shipping zone.
A tip for organising warehouse work
These three warehouse areas do not have to be separated by walls. In fact, they will be an obstacle if forklifts or pallet trucks are being used. It is more about dividing certain parts of the warehouse using signs on the floor, which, for example, help prevent people in a rush from storing pallets from the receiving area in the shipping zone.
Storage space: the principles of allocation
A warehouse cannot be efficient if workers have no system to follow that helps them to find items.
This causes delays in getting goods ready for shipment that could easily be avoided. As a consequence, the shop cannot achieve maximum logistics efficiency, and it might even lead to many returns or cancelled orders.
It's also worth considering that delayed orders may very well lead to negative reviews and prevent some potential shoppers from completing their orders to begin with.
It is for these reasons that permanent storage spaces are assigned to each product. There are two ways of doing this:
1. Numerical space assignment
Items are always stored in the same area according to their item numbers. This method is suitable for most small- and medium-sized online shops, which tend to have a relatively restricted product range and a small number of shipments.
2. Random assignment of space
For shops with a large number of shipments, the numerical system is not flexible enough to respond to changes in the product range. Instead, new items are automatically assigned to the next available space in the warehouse.
This method requires that each item number has a warehouse-space number assigned to it and placed in a chart so employees can refer to it at any time.
Unique packaging is just one of the factors that distinguishes an e-shop. Here are a few others: Differentiating yourself from the competition
Warehouse Planning
When planning a warehouse, it is important to consider technical performance as well as economics.
The following key aspects should be taken into account here:
number of items in the product range

size of stock items

average and maximum inventory for each item depending on its sales pattern and on any seasonal sales or clearances

average and maximum number of shipments per day

average number of items in the shipment: multi-item shipments are more efficient with respect to order picking

number of returns.
How about you? How do you organise your online shop's warehouse? Please share your experiences and thoughts in the comments section below.
For insights on everything you need to know to optimise logistics for your online shop: