Whether you LOVE or hate Valentine's Day, if you're a business owner, you simply can't ignore this holiday. Sure, Valentine's Day isn't quite as popular in the UK as it is in the states, but Brits still partake in the holiday of love, so why not reach out to those shoppers who do? In today's blog, we'll be giving you some ideas on what your business can do to prepare for the holiday.
Some Valentine's Day statistics
Nothing says Valentine's Day like some good ol' fashioned stats. I know - I can be so romantic sometimes. All kidding aside, let's see what effect Valentine's Day has on e-commerce sales and retail in general.
According to a January 2017 poll by Opinium Research LLP, which surveyed more than 2,000 UK adults, 48% of respondents planned to buy a gift for their loved one. Of those who planned on buying a gift, the amount they were planning to spend went up from £26.69 in 2016 to £29.89 in 2017.
Men were planning to spend almost double the amount as women (£39.70 vs. £20.42). Of course, these aren't Christmas numbers, but when you consider that many predict that sales will reach between £400 million and £800 million in the UK (with Scotland, London, and the North West spending the most amount of money).
Some romantic statistics from eMarketer (at least the chart is red!)
What can your business do for Valentine's Day?
So, you've decided you want to do something for Valentine's Day, but you're not quite sure what you can do. Let's look at a few ideas for your business.
Create a Valentine's theme on your page
Perhaps, you can change the header image on your homepage or slightly alter your logo. Some visual cues on your page are never a bad idea. With the Christmas and New Year's hangover, Valentine's Day has a way of creeping up on us (men). A reminder on your page might inspire visitors to make a quick purchase and "get it out of the way" (hint: don't write that in the card).
The homepage of Woops makes me hungry... for love!
Gift Guide for him and her
Once you've added all the products to your inventory that you think your customers would like, help guide them to these temporary products with a "Gift guide" page. You can divide these pages into different categories (e.g. For him, For her, For the Haters, etc.). As men generally tend to spend more than women on this holiday, you might want to focus on male shoppers, but naturally, this depends on your shop.
Connect with a charity
Find a charity to donate some of your profits to. Though it might seem silly since we think of Valentine's Day as a couple's holiday, it really all comes down to love, doesn't it? If you decide to go down this route, make sure to mention this on your homepage somewhere. It's really a win-win situation for everyone.
Create unique Valentine's Day products
Depending on what kind of store you run, you might want to consider offering a few Valentine's Day-themed products. Your products don't have to be cheesy. They can be "love-themed" without having to be tacky.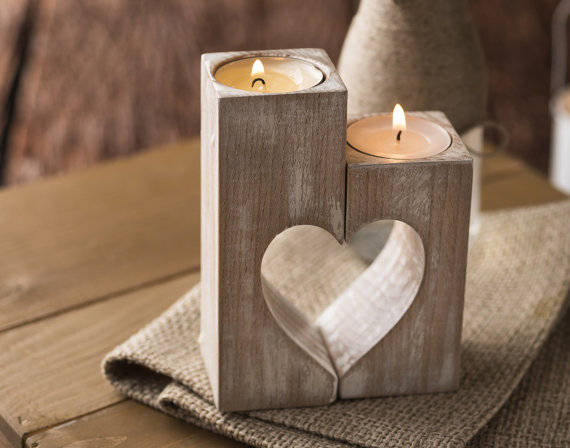 These candlestick holders can be used any time of year (Source: franjohnsonhouse.com)
Your products don't necessarily have to be so "lubby-dubby" either. Remember, love is supposed to be fun, so have fun with your products. People celebrating V-Day usually have a sense of humour, so don't feel the need to be totally romantic. Even non-romantics celebrate Valentine's Day.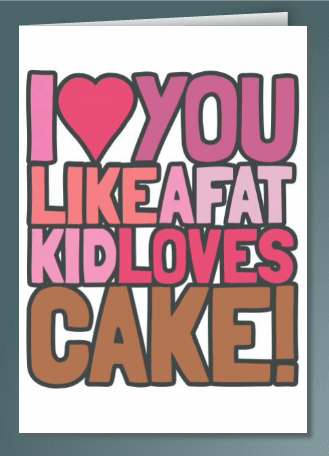 Nothing says "I love you" like comparing your love to overeating (Source: scribbler.com)
V-Day alternatives
Not everyone loves Valentine's Day. In fact, some people are so cynical about the holiday that if they actually buy a present, it will only be done so ironically. Because this demographic is very real, you might want to consider having some tongue-in-cheek gifts or even some straight up anti-Valentine's Day gifts.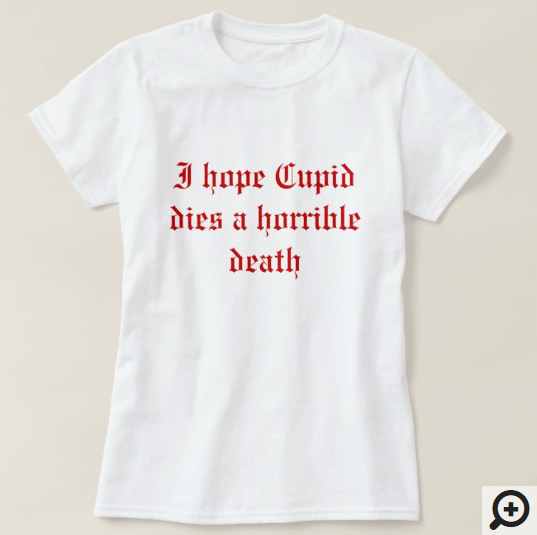 T-shirts express my thoughts so much better than I ever could.
(source: Zazzle.com)
Other Valentine alternatives have been popping up. Galentine's Day, a holiday celebrated on February 13th, which was made popular by the US sitcom, Parks & Recreation, has gained popularity in recent years. It's a day where "ladies celebrate ladies" and female friends come together to appreciate each other.
Singles Awareness Day (S.A.D) is celebrated the day after Valentine's Day. Naturally, these people have a sense of humour as well and can take a joke. Sure, it might be a trend, but we all have that self-deprecating friend who can have a laugh at their own expense.
Surprisingly, according to Google, interest in Valentine's Day alternatives has been on the rise with searches for "Galentine's Day" and "Singles Awareness Day" increasing as much as 44% in 2017 compared to 2016.
Another group you probably shouldn't ignore are pet-lovers. Some people will always love their cats more than other humans, so have fun by embracing that audience and marketing towards them. Imagine your gift guide having one section for men, one for women, and one for pet-lovers! That's sure to pique some interest for all pet-owners, even if they are in involved in a romantic relationship.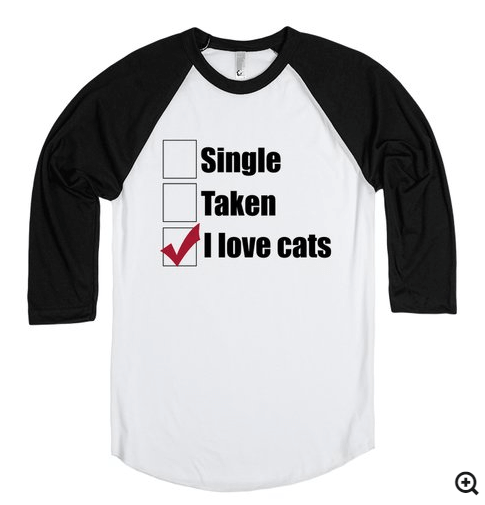 There's nothing wrong with loving cats. The entire internet does! (source: skreened.com)
Reach out (ads, email, social media - contest)
If you're going to extend your product catalogue for this holiday, make sure you reach out to your past customers by sending out an email a few weeks ahead of time. This will remind them of the upcoming holiday and hopefully lead them to your shop for a purchase.
Similarly, get your social media accounts to post reminders about the upcoming holidays as well. Show your products in action with some nice, natural images.
Bonus download: Get our free Instagram whitepaper by clicking on the banner below!
You might even want to consider having a contest on social media. Inspire your customers to partake with some romantic images or some funny images. Offer some of your products as a prize or offer extra discounts to the top 5 images you receive. Naturally, you have a lot of options when it comes to running the contest, but test it out, and hopefully you'll get your audience to share this contest with their friends and gain even more exposure.
Finally, you can reach out to your entire target audience by advertising on Google or Facebook. By micro-targeting to different audience groups, you can slightly alter your ads and text to suit every demographic that you want to reach.
And don't forget to reach out to these "alternative" Valentine's groups. This is a great chance to have some fun with your ads and you might be able to grab people's attention and stand out from the crowd. Going to use social media marketing? Target single's groups or dating apps to find the right audience.
Discounts
As with many sale-holidays, you might want to consider offering a special discount for your shop during the holidays. You can use this strategy as a kind of loyalty program to past customers, or offer it to everyone by advertising on social networks and across the internet. You don't have to go crazy with a 50% discount. Normally a 20-30% discount works quite well, too. Small extras like free shipping or free gift wrapping can also help improve conversions.
Conclusion
Valentine's Day is a great opportunity to increase sales and get more shoppers aware of your website. There are, of course, some unique opportunities with Valentine's Day by creating new products and targeting those who love the holiday as well as those who don't. Classic holiday marketing methods work well during the period leading up to Valentine's Day as well. Whatever you do, don't ignore this holiday or you might miss out on some great opportunities.
BONUS MATERIAL: If you want to learn about getting great exposure through Google Shopping, download our free whitepapers (part 1 is an intro and part 2 is about optimising your ads)