Singles' Day might not be very well-known yet in the UK, but many believe that it will be soon. In the last few years, Black Friday and Cyber Monday have been one of the biggest shopping days in the world, especially in the US and UK. Singles' Day has been on the rise. Should your business take part?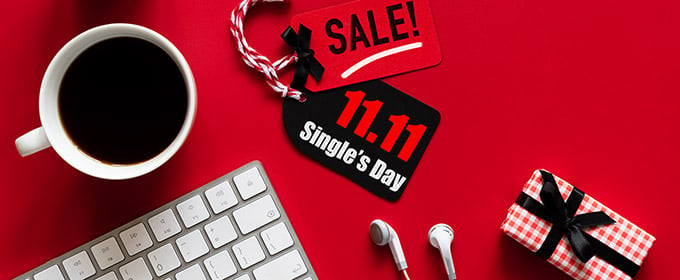 What is Singles' Day?
Singles' Day started in China in the 90s. As you might guess, it began as a kind of anti-Valentine's Day. Cleverly, Singles' Day takes place on November 11th (11.11) because the date is comprised of only the number one.
This relatively new tradition sees single people treat themselves to gifts. Over the years, it has become so popular that social gatherings and events take place on this day (often to meet people). It is also a popular day for weddings!
The biggest sign of its popularity is the fact that… wait for it… it is the biggest shopping day in the world.
Yes, you've read that correctly. Singles' Day is the biggest shopping day in the world.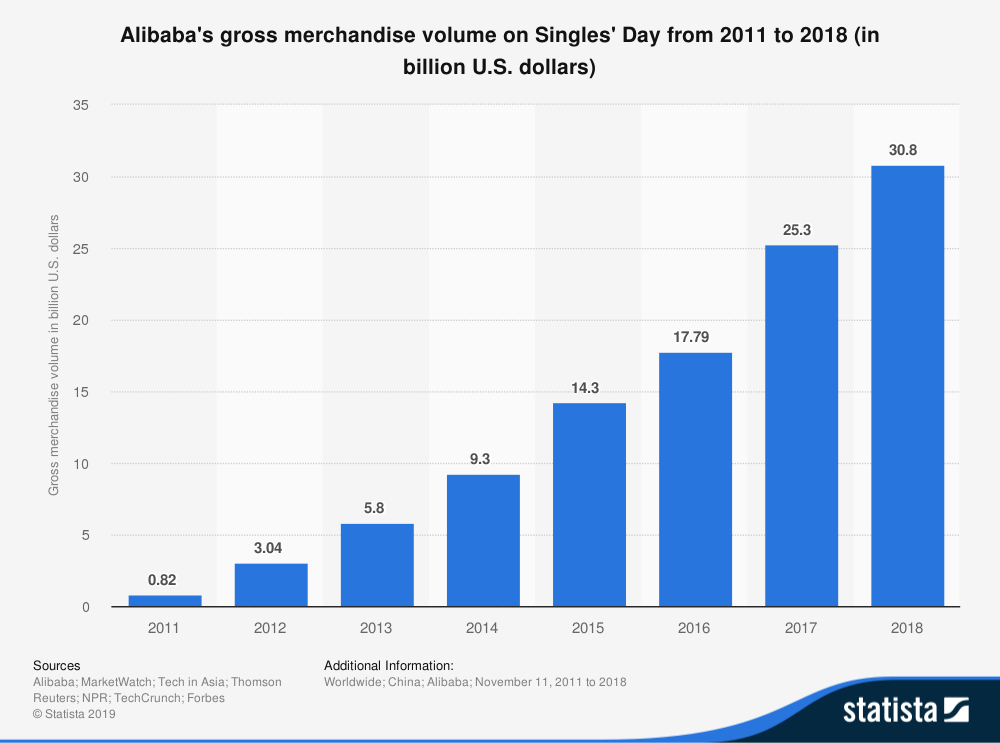 The famous brand, Alibaba, has helped make Singles' Day what it is today: the world's biggest shopping day (Source: Statista)
In fact, according to Techcrunch, it is 2.5 times larger than Black Friday and Cyber Monday combined! If you don't believe me, check out this chart from Statista on Singles' Day performance in 2017. Alibaba (founders of AliExpress) alone saw over 1.48 billion transactions worldwide in 2017. Also noteworthy: 90% of sales came from mobile devices.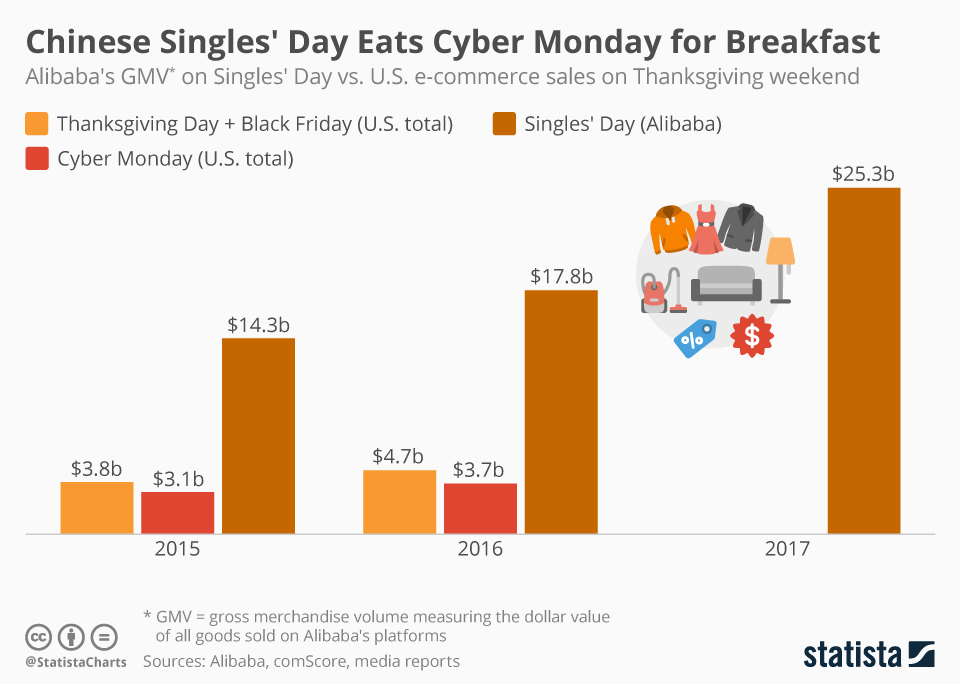 When you consider China's population, this shouldn't be too shocking (Source: Statista)
Why your business should pay attention to Singles' Day
The Chinese have been celebrating this holiday online as their version of Black Friday. Although the holiday hasn't quite reached mainstream status in the UK, it is growing in popularity. Thanks to Alibaba's global success, we've seen this holiday sale become more prevalent around the world in the last few years.
Alibaba isn't the only brand benefiting from the holiday. JD.com has also reported major profits in the last few years. British brand ASOS has been participating as well. Doing a quick Google search will reveal that there are many websites dedicated to sharing the different Singles' Day sales out there.
As Black Friday and Cyber Monday have become immensely popular in the last few years, you may have noticed that some brands are trying to get one step ahead. In the last few years, I've noticed plenty of pre-Black Friday sales or "Countdown to Black Friday" sales.
Because Singles' Day takes place in early November, it seems like the perfect time to get a jump start on your Christmas sales, especially as the "new" holiday grows in popularity every year.
Conclusion
If you want to get a jump start on your holiday sales, you should strongly consider starting a Singles' Day promotion. The key here is to start a marketing campaign a few weeks in advance. Get on social media and spread the word. For example, you can go on Instagram and set up some polls to get engagement and an overview of the interest from your audience.