Product reviews are found on the biggest e-commerce sites in the world. Not only do marketplace websites like Amazon and Etsy have reviews, but plenty of individual stores do, too. It's no secret that consumers rely heavily on reviews to guide them through a purchase decision. In today's blog, let's have a look at why you need reviews, how you can collect them, and some supporting statistics.
Before we begin, here are links to the different sections of this blog, so you can skip ahead if you prefer:
1. 4 Reasons why you should get product reviews on your website
3. How to collect more product reviews
4 Reasons Why You Should Get Product Reviews on Your Website
If you're still on the fence about product reviews, let's see what benefits displaying them can bring to your shop.
Building trust through transparency
Showing off your product reviews gives your shop a certain level of transparency. Not only does it appear that the shop has "nothing to hide", but shop owners have the opportunity to address any criticisms head on.
Negative reviews are, unfortunately, an inevitability. In fact, plenty of shoppers go out of their way to search out and read negative reviews when they visit an unknown website.
This isn't necessarily because they have schadenfreude or any other cynical motive. It's because they want to see what was said, what the circumstances were that lead to this negative review (i.e. long shipping, easily-broken product, etc.), and most importantly, to see how the shop owner handled the situation. Reviews can definitely be a great insight into the customer service quality of an online shop.
Improve your Google ranking in search results and get more traffic
Believe it or not, product reviews can actually help your shop rank higher in Google search results. How? It's quite simple, actually – user-generated content boosts SEO.
Whenever someone writes a new review, it essentially gets shared on a product page. Because you're adding new texts to your pages, Google will re-crawl your pages relatively soon thereafter. Because Google absolutely loves "fresh content", your product pages will reap the rewards by appearing higher in search results.
As everyone knows, the higher you rank, the more traffic you'll get.
Lower return rates
As we mentioned earlier, customers rely on each other for feedback before completing a purchase. As businesses that collect more reviews, there is more feedback to read through. Every customer is unique and looking for different details. With plenty of reviews to peruse, shoppers get a much clearer picture of the product they're considering purchasing.
When customers know what they're buying, it leads to lower feelings of disappointment and thus, lower return rates.
Genuine feedback
This might seem obvious that customers are sharing their experiences and feedback on a certain product. However, because we're all consumers, it's easy to forget that reviews aren't just there for our fellow shoppers. As a business owner, you should be reading every review that comes in. If a certain product just doesn't live up to the quality standards that you expect, you'd want to know about it, wouldn't you?
If a certain product breaks easily or the colours are different than the product image, and enough people seem to complain about it, it might be time to get rid of that product. Stop investing in advertising and inventory for a product that doesn't work and/or makes your customers unhappy. In the long run, you want to keep them happy because the best customer is a loyal customer, right?
Reviews statistics
In case you're a numbers-person, I've found a few statistics to back up my point.
BrightLocal creates an annual reviews survey. Their 2017 survey revealed many interesting statistics. Among them, this one jumped out at me: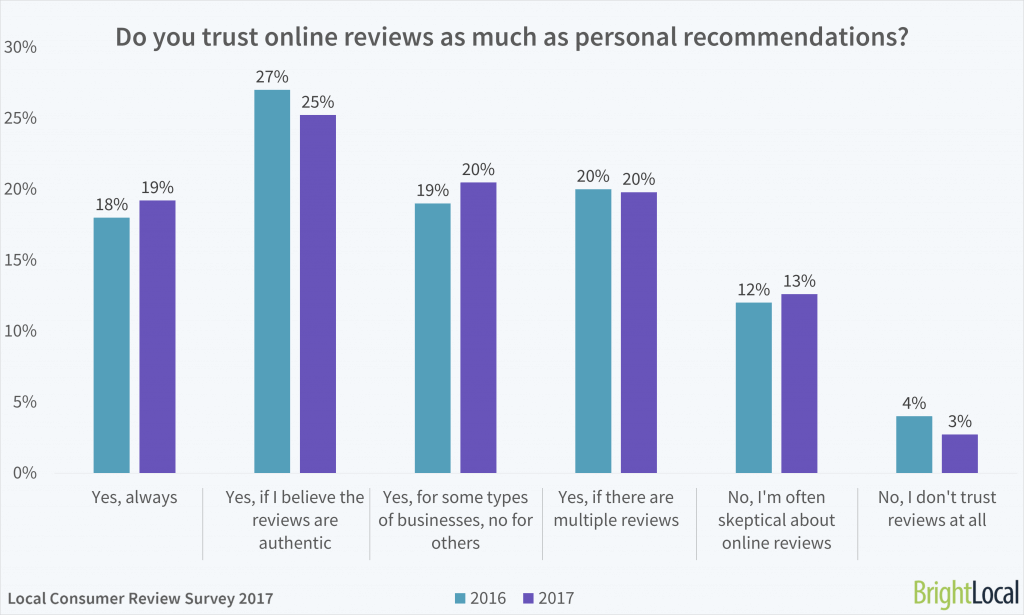 In other words, only 3% of users don't trust online reviews as much as personal recommendations at all. A solid 84% of respondents said that they do.
When it comes to the sources that consumers use to make product purchase decisions, eMarketer released some findings from March 2018 comparing UK and US internet users: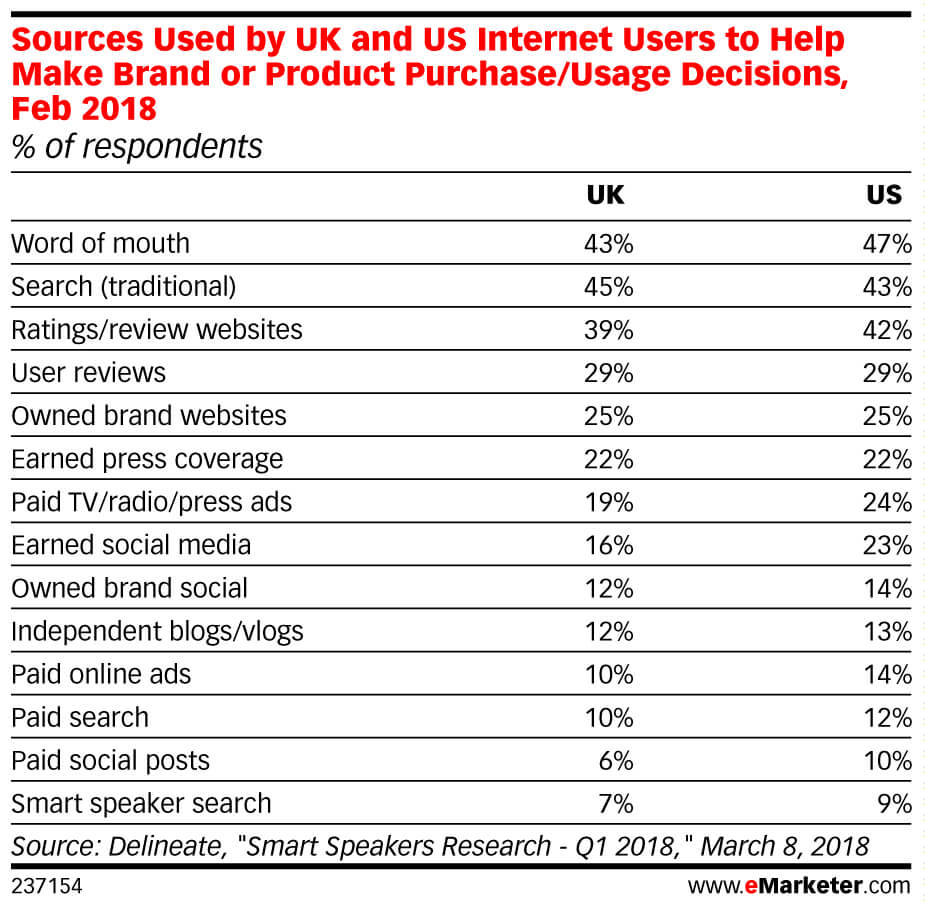 If you look at 3 of the top 4 answers, they directly involve 3rd party social proof. Word of mouth, ratings/review websites, and user reviews found themselves up there. Search (traditional) also made it in the top 4. It's worth noting that this might also be a third-party reviewer. It may also be the brand's website that shows up in the results (so remember the user-generated content point from earlier).
I have one more table for you to check out. This one looks at affluent internet users and the factors that encourage them to make digital purchases.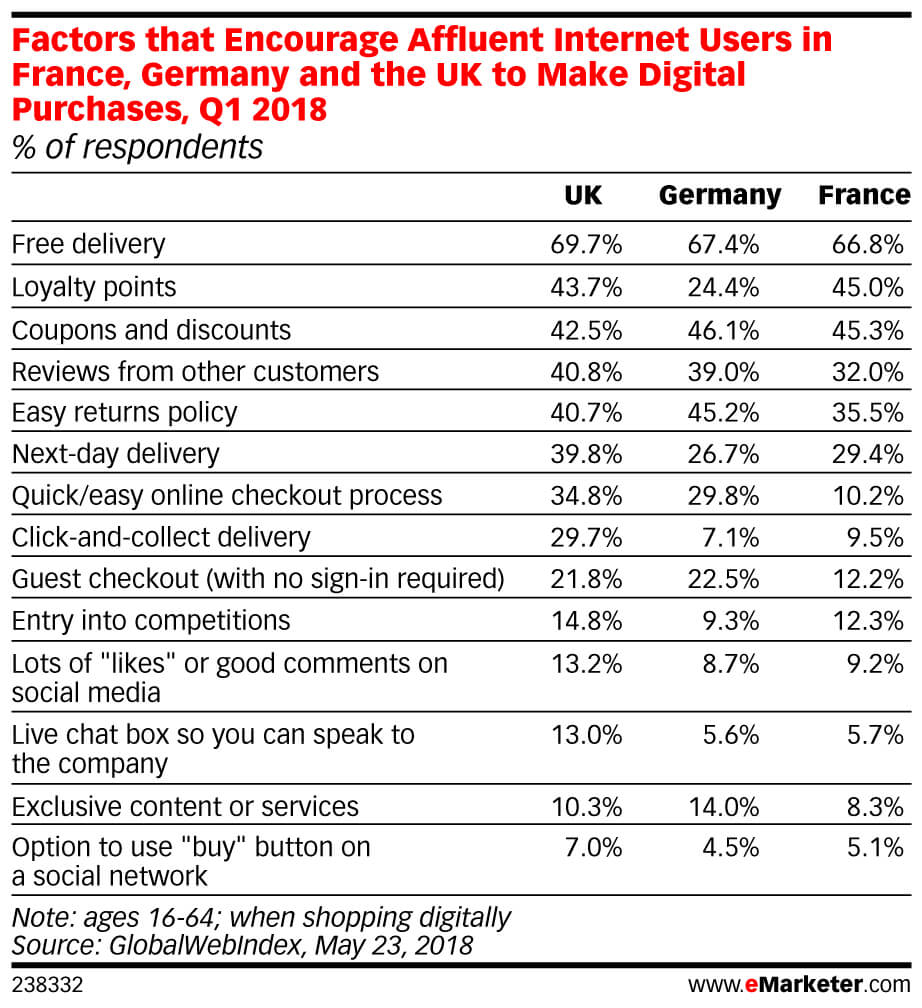 What stands out to me is that "reviews from other customers" are in the top 5 answers in all three of these markets, which are without a doubt the biggest markets in Europe. In other words, rich people are also influenced by the opinions of others.
How to collect more product reviews
By now, you should already know how important it is to get product reviews for your shop. Besides getting Google to show your stars, the more product reviews you have, the more trust customers will have in you. However, you might be wondering how to motivate your customers to actually leave their feedback for you.
Reach out to your stars for your stars
Let's face the facts: unless you have such an amazing product at such an incredible price, customers probably won't go out of their way to write you a review… unless you ask. There are a number of ways you can ask them, but the important thing is to actually do it in one way or another. Whether it's a postcard or an email, just go ahead and ask them for the favour!
Some companies will place a reminder in the package. This can often do the trick! Users will test out the product, and before they throw out the box, they'll see the card and remember that they can quickly leave a review for the product.
Otherwise, you can email them reminders. Some review providers have a system for collecting reviews. With Trusted Shops, for example, the Review Collector will automatically send out review request emails after a certain amount of days that you decide on. This ensures that the customer receives the review request after a few days of using the product - perfectly timed.
Rewarding your customers for their reviews
This can be a bit tricky! The law states that you can't offer incentives for positive reviews, but that you can indeed offer something for a review. You just can't specify whether they have to be good or bad. As a shop owner, you will also have to label those reviews as having been rewarded. Be sure to check your country's laws regarding incentivising reviewers to give feedback.
Conclusion
Product reviews can help give customers that extra push they need to trust your online shop and complete their purchase. Because shoppers are cynical, letting former customers become your advocates can help you gain their confidence. Not only that, but you can get great insights, lower your return rates and increase traffic to your site.
Check out our whitepaper below for more information on product reviews.