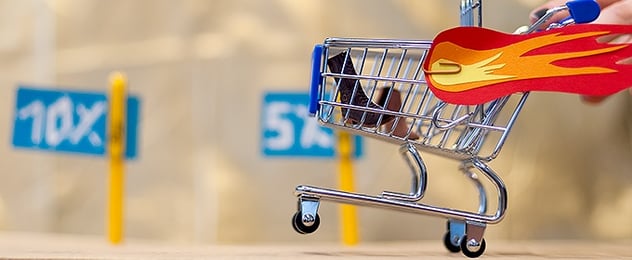 A quick and simple checkout process on your website is one of the most important success factors in online retailing. With a few simple measures, you could increase your conversions by up to 10% easily. However, most online retailers neglect this aspect and hence do not perform to their full potential. Our guest author, René Bernard, a freelance specialist editor for IT themes, is here to give you tips on how to optimise your checkout effectively.
Out of every 100 visitors to an online shop, depending on your conversion rates, maybe an average of only two to three actually make a purchase. It is particularly painful to lose customers who have a full shopping basket just before checkout.
Studies indicate that shopping cart abandon rates are frighteningly high, lying between 40 and 80 percent. The checkout is the most critical point for an e-commerce website.
The reasons for abandoned purchases are diverse. Munich-based technology company TRBO established that the most popular reasons for shoppers to abandon shopping carts are:
High shipping costs (57 percent)

Non-availability of a suitable payment method (53 percent)
In 2014, 1,000 German internet users were questioned on the subject. Every third user believed that they could purchase the product cheaper somewhere else, and 24 percent are dissatisfied by the given shipping time. Technical problems in the shop lead to a purchase being abandoned for a fifth of the users.
Although the study was carried out in Germany, the results and the issues that appear are quite universal.
"Retailers themselves are responsible for many of these factors", says Felix Schirl, manager of Trbo GmbH. He explains that there is huge potential for improvement saying, "A lengthy order process puts off many users from making a purchase. By simply slimming down the registration process, the number of abandoned shopping baskets can be easily reduced."
Trust pays
"The higher the trust of a customer in the shop, the lower the shopping cart abandon rate", says Wiljo Krechting. The e-commerce expert and press spokesman for the e-commerce platform shopware AG recommends that, "Websites must undertake trust-building measures and inform customers about the technicalities of every purchase. All cancellation and return conditions must be clearly specified. Trust can also be created with trustmarks, such as that from Trusted Shops."
Through various improvement measures in the checkout process, up to ten percent more conversions can be achieved. A study by IBI Research at the University of Regensburg determined in autumn 2015 that most retailers, however, neglect the checkout process. Only 45 percent determine their abandoned purchases rate at the checkout, and hardly any monitor their checkouts constantly.
Win back customers
One in every two retailers makes an effort to reach out to customers who have abandoned the checkout. Overall, 24% of retailers retain the shopping basket and 18% send reminder mails. Other shops use advertisements, discounts or vouchers to win back customers.
It is, however, easier to facilitate a purchase with the help of a streamlined checkout process than to win back a lost customer. The checkout process needs to be quick and simple.
Remember the following points when designing the checkout process:
A visitor using a desktop PC or a laptop spends 5 minutes 16 seconds in your checkout

A visitor using a tablet spends just 4 minutes and 4 seconds there

A visitor using a mobile phone spends only 2 minutes and 49 seconds in the checkout
Your checkout page should ideally take much less time than these average numbers. There are various measures that you can take. For example, intermediate steps like country of delivery can be optimised. If you do not deliver worldwide, you can easily eliminate the countries that you don't deliver to.
Simple measures for fast improvements
Obligatory registration is also disliked by customers. It is an important reason for purchase abandonment especially for smaller stores.