Have you ever looked around at the people on a train? You've probably noticed that 90% of the passengers have their faces buried in a smartphone. Chances are that those eyes are scrolling through Instagram or another social media app. While Facebook and Twitter have more or less reached their peak in popularity, Instagram is still continuing to grow in terms of users.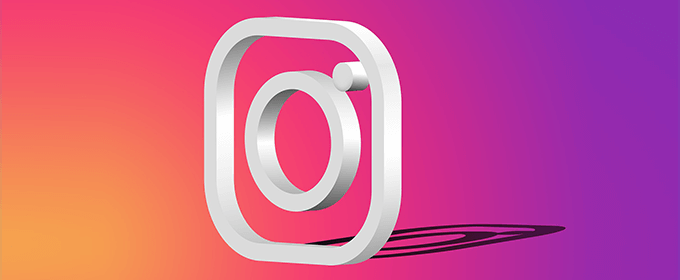 The growth in popularity goes hand in hand with an increase in features. What once started as a photo editing app is now a social network, video channel, and webshop in one! The app combines the best features of Snapchat, LinkedIn and YouTube - no wonder there is something for everyone.
Sales is all about people
Instagram is already often used by B2C shops. As a B2B retailer, why not follow suit? According to Instagram, there are as many as 25 million business accounts on the platform, and 80% of all users follow at least one company.
B2B sales is often wrongly dismissed as a tough, dry way of selling, from one sales department to another. Buying and selling is ultimately still just about people. One person wants(or needs) something, and the other offers it. Why shouldn't Instagram be able to support them?
Shoppers know how to find their way around this platform. As a seller, it is just a matter of being clear about what you offer and for whom it is interesting. And if you don't want to use it as a conversion tool, it can work really well for brand awareness. So, in order to get the most out of Instagram as a B2B business, keep the following do's and don'ts in mind:
#1 Make it visually attractive
If you had to describe Instagram with one word, it would be visual. Save your best pieces of text for Facebook - Instagram is for images!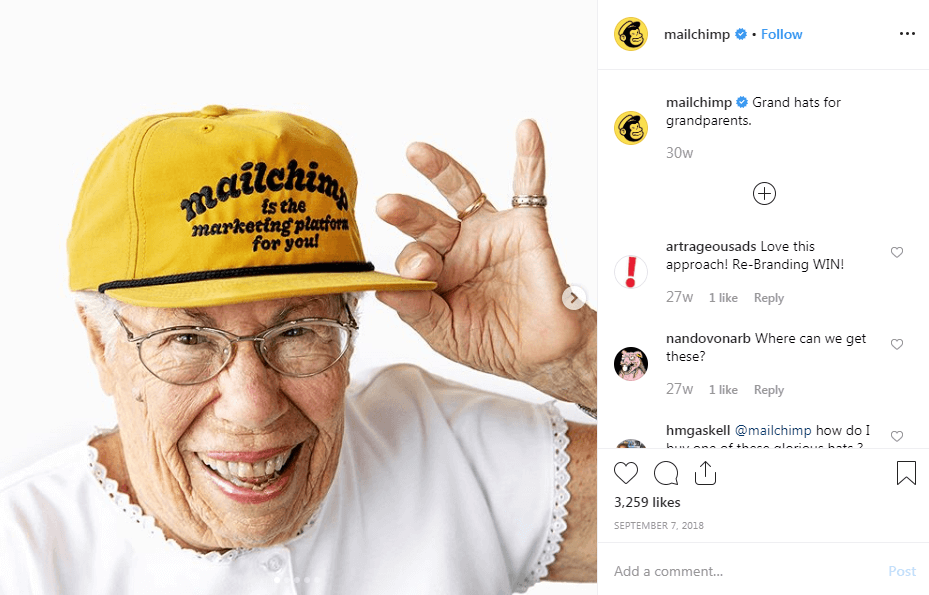 Source: Mailchimp's Instagram account
For an example of a striking B2B Instagram page, check out Mailchimp's page - especially because they've proven time and time again that they have a great understanding of who their users are.
(Recommended reading: Keep your customers in mind when creating content by making a customer persona!)
Every one of their posts actually has a relevant message, but at the same time, they try to use humour and attention-grabbing visuals to keep things exciting!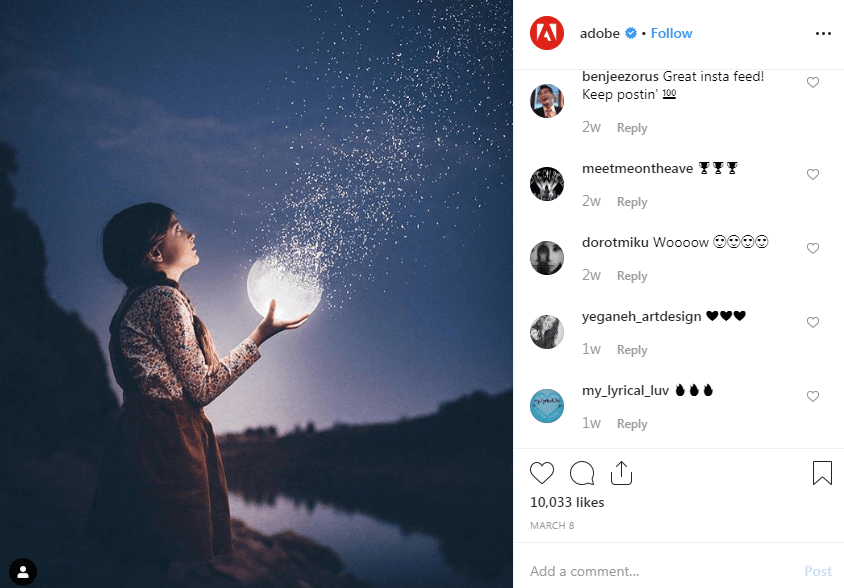 Source: Adobe's Instagram account
Adobe also knows how to turn their Instagram page into a distinctive visual spectacle, which is not so easy in the competitive graphic design (B2B) industry.
Here, Adobe capitalises on their users' works, which is a win-win(-win) situation:
Existing users get exposure through a popular brand (they are tagged in the posts)

Potential customer get to see what the software is capable

Adobe will get new customers
There are also accounts that choose to post all their images in a certain colour scheme. That too is a way to distinguish yourself visually and strengthen their branding.
#2 Keep surprising your followers
Something you should definitely avoid on Instagram is both predictability and copy-cat behaviour. Originality is key, so try to avoid stock photos or clichés.
What is a good idea, however, is user-generated content. This is basically exactly what it sounds like: content created by your users. It is not only accessible - after all, the content already exists - but it's also the perfect way to highlight the features and benefits of your product or company.
Place pictures of how your product is used, what your users think of it, or how your employees work behind the scenes. This not only appeals to the imagination, but also ensures more engagement. This in turn leads to more followers, which ultimately leads to more brand awareness.
(Recommended reading: Get more Instagram followers (without paying for them))
#3 Proceed strategically
What applies to B2C may be even more important for B2B: don't start working without a preconceived plan. Since you are in a market of professionals, a good strategy deserves the necessary attention.
Make a content plan, figure out which hashtags you want to be found with and ensure you have a consistent "voice". Also, think about which features you want to use or not.
If you often want your posts to refer to blogs or other links, consider using Linktree for this purpose. This tool is very useful because Instagram only lets you share one link on your profile page. With this free tool, you can create a link that sends users to a page with multiple buttons that link to other webpages.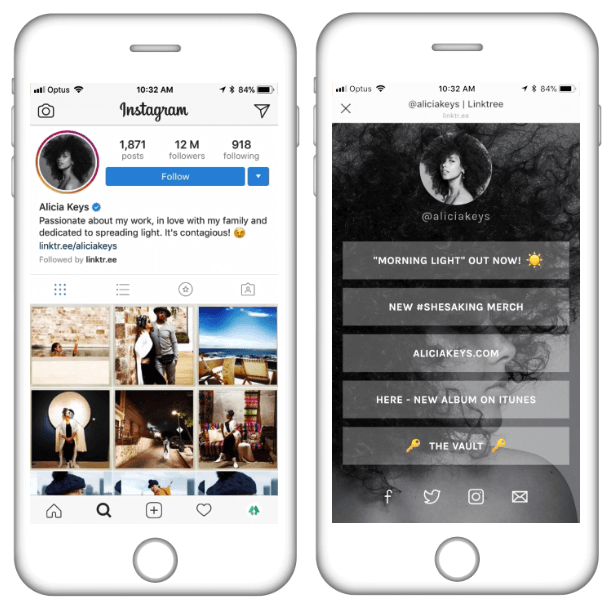 On the left, you'll notice the one link in the bio (linktr.ee/aliciakeys). Clicking on it will take you to the page shown in the second image, which has many links for the user to choose from: a new music video, her merchandise shop, her iTunes page, etc. (Source: linktree)
This way you can share multiple links with your Instagram followers instead of just the one (e.g. share links to a specific product page, your YouTube page, and your contact page, etc.). Linktree also gives you statistics about the links you have added (i.e. how many clicks each link has received).
If you think you can sell many products directly, use the Shopping feature. Although this feature does not work for every B2B account, the options are becoming more and more extensive.
The use of Stories also deserves an extensive plan. With a starting account, the stories can be used mainly as a daily behind-the-scenes look, answering questions or announcing new products or services.
With an account above 10,000 followers, links can be added to stories. For example, by swiping up, you can send someone to a shop page, blog, or app, for example. Instagram Stories has gone from a behind-the-scenes peek into your business to an actual conversion tool!
By collecting stories in highlights, the best stories can be saved. To take Mailchimp as an example again; here stories are mainly used for branding. For example, a highlight has been made of each employee's story, in which a day is spent with them - a nice look at what happens behind the scenes.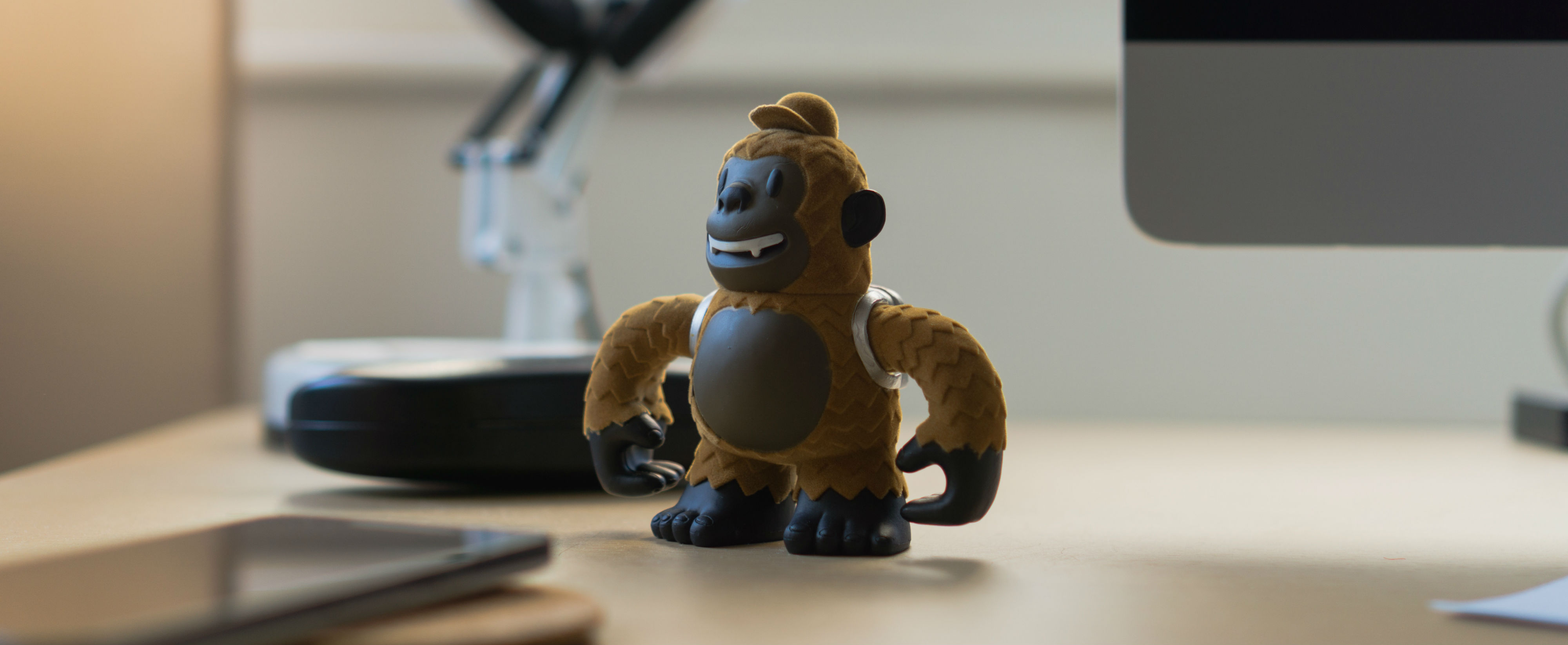 #4 Radiate reliability
Because Instagram is not a common way of selling, it is important for a brand to continue to inspire trust there, too. A good way to do this is to show the human side of your company.
Make your employees visible and show them doing what they do. But you can also hint at this in your use of your texts; stay away from fluffy, distant language, and show that there are actual people working at your business.
FREE DOWNLOAD: our whitepaper on building trust in B2B relationships
Don't forget the power of your bio! The content of your page is beautiful, but with your bio, you can remove any doubts that potential customers may have. Therefore, make sure you place all the information buyers would find relevant here, in a short and powerful way.
Do this with a few bullet points with a link to the most important pages (e.g. Linktree); this way you can prove your trustworthiness right away.
Consider, for example, a URL leading to your reviews platform, your affiliated quality seal (e.g. the Trusted Shops trustmark) and a page explaining how to make use of the buyer protection. The latter is especially important in B2B, because purchases often go in bulk and often involve larger amounts.
Naturally, you'll also include a link to your website, where your payment options and contact details can easily be found. This is another great way to build trust through transparency!
Conclusion
Remember, B2B marketing is not all that different from B2C marketing, especially on social media. After all, you're still selling from person to person.
When it comes to Instagram, you'll still need to post visually appealing images. Get creative and think strategically. Try to come across as trustworthy by showing your team behind the scenes and being as transparent as possible.
Instagram is quickly becoming a great tool for increasing sales. Read more about this topic by downloading our free whitepaper on Instagram ads: