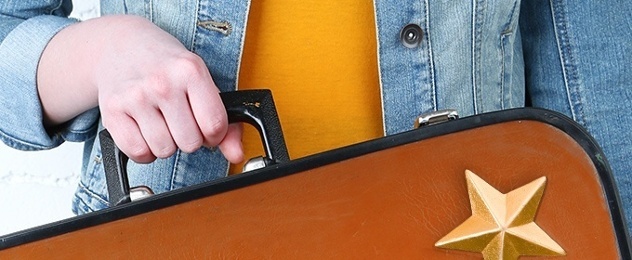 The more reviews you display, the more likely your customers are to put their trust in your shop. To boost this trust effect, you can now import reviews from other review platforms to Trusted Shops free of charge. You are just a few steps away from gathering all your reviews in one place.
Trusted Shops gives you plenty of opportunities to collect reviews. However, especially at the beginning, it might be helpful to increase the displayed number of reviews by importing the ones you collected with other platforms. It is the ideal solution for shops with a rather small order volume because it gives them the opportunity to capitalise on each and every review they have collected so far.
From 100 to 200 in the blink of an eye
Importing reviews from other platforms will also benefit shops that have already collected reviews in different ways and now wish to rely on one provider to have them published — because it does make a difference whether you display one hundred or two hundred reviews. Indeed, the higher the number of reviews, the more effective you are in showing that you are established in the market and that you care about what your customers think of your service.
Imported reviews fit in perfectly
Imported reviews lead to an increase in the total number of reviews you display on your website and on your review profile. However, these imported reviews are not taken into consideration when calculating the overall rating of your shop because calculation methods vary with different review platforms. Moreover, the central element of the reviews, namely the comment, is perfectly integrated into the overview and discreetly marked as "Imported from...".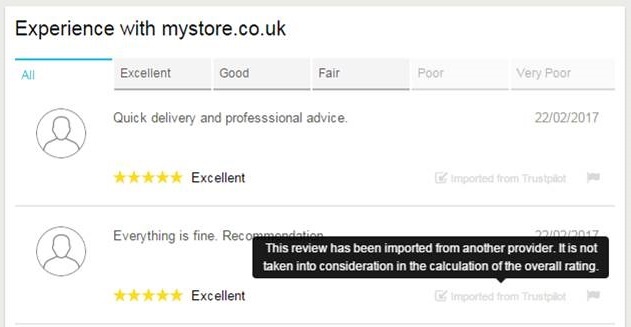 Three prerequisites for importing reviews free of charge
Trusted Shops stands for authentic reviews offering real added value to consumers. That's why we only import reviews from reputable sources. Reviews can only be imported once. The procedure is free of charge in the framework of the Trusted Shops membership. Three conditions must however be fulfilled for imported reviews to be displayed on your Trusted Shops review profile:
Importing reviews from Google certified platforms: To guarantee a minimum standard of quality and authenticity, we only import reviews from review websites admitted to Google Shopping. They include most well-known providers. Please find out here if your former provider is among them.
Signing the licence confirmation: We need a written confirmation that you have been granted a licence by the provider to post reviews on other platforms. We have prepared a standard letter for you for this purpose. If you are not sure whether you hold the required licence or not, please ask the provider.
Providing the following review parameters: To correctly display the imported reviews, we need your TS-ID, the overall rating of each review, the corresponding comment, the order reference as well as the language in which the review is written.