When Facebook bought WhatsApp in 2014 for $19 billion, we all stood there wondering why. What's a social media platform, itself with billions of recurring monthly users, going to do with a simple chat app? To the outsider, this bold move by Facebook was unnecessary. Only months later, they were going to prove us wrong.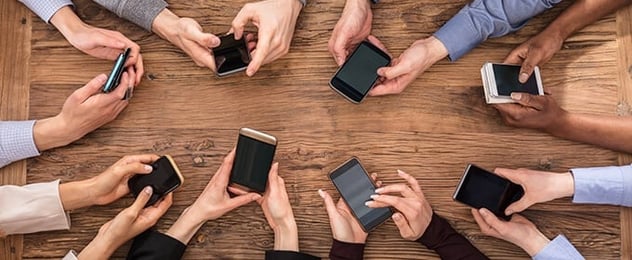 This masterplan became clearer when Facebook launched its own messaging app, Messenger, and made it a mandatory download. You see, Facebook understood what the growing shift from web to mobile apps meant: that more and more people would turn to the privacy of messaging apps for interaction.
Facebook's decision to monetize messaging apps was certainly the right one: presently, messaging apps are expanding as much as 148% (that's about 900 million users) in a span of just one year.
As a business owner, how do you translate the growing success of messaging apps as a means to expand your own brand? Don't know where to start? Here's how:
1. Promote a product with an influencer
When you have 80 limited pieces of an exclusive bag priced at 14,900 RMB or $2,170 each, how do you make sure this product actually sells, let alone sells out? Givenchy had all the answers when they decided to team up with a Chinese online personality with the WeChat username "Mr Bags".
Their strategy was simple. They had Mr. Bags advertise the limited product to his 1.2 million followers, and his fan base did not disappoint. In just 12 minutes, the bag sold out and Givenchy earned $173,652 for it.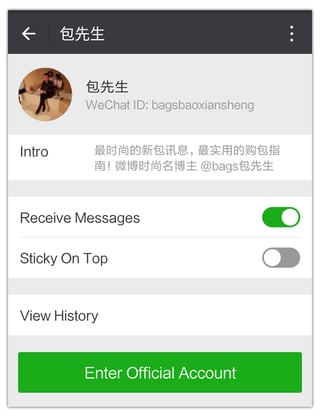 On their own, basic marketing tactics are harder to pull off. But with influencers like Mr. Bags, marketing experts can reach millions of organic followers who have already put their trust in certain individuals and have no problem following any suggestion or recommendation given to them.
2. Take your customer service to new heights
When you're running a business, it's crucial for customers to feel that they can rely on you all the time, especially when you're working in the hospitality industry. Dutch airline KLM took to Facebook Messenger to interact with their existing customers, as well as acquire new ones.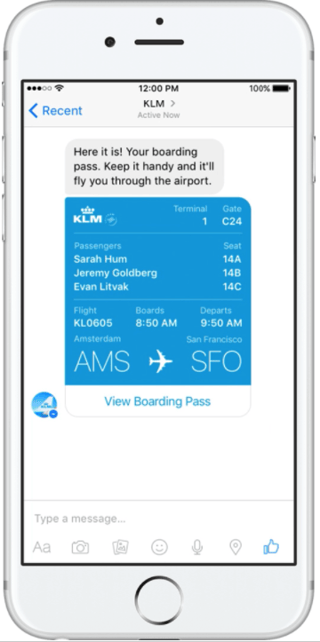 KLM has always been known for optimising support and making processes streamlined and more efficient. Their decision to allow customers to interact with an agent, and eventually a human-trained chatbot, through Facebook Messenger saw a 40% increase in customer interactions. In fact, 15% of online boarding passes were sent through the app, allowing customers to zoom through airports just by saving their boarding passes from the app.
KLM's initiative has been appreciated by customers. When they asked customers to rate their service, the Messenger-based interaction received the highest satisfaction scores compared to their other social channels.
3. Use chatbots to engage users with products
Shopify is one of the leading online commerce platforms on the internet that helps merchants get eyeballs on their products and grow their sales.
When Shopify wanted to offer new opportunities to their clients - expand the audience by engaging teenagers - they decided to partner with Kik. 70% of this messaging app's audience are youngsters between 13 and 24 years old.
These users would chat with GiftGuru, Shopify's chatbot, whose primary task was to recommend gifts to people by asking questions like "what is your budget" and "what are you interested in?".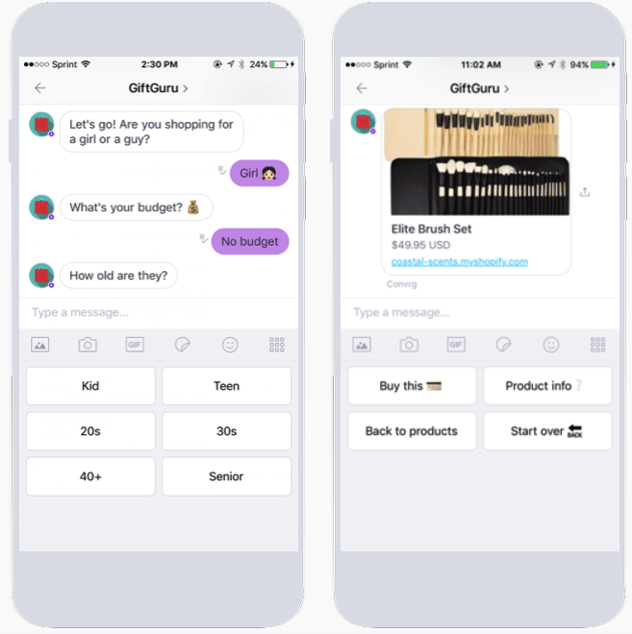 From here, the bot would intelligently filter out the responses and recommend a product to the user. This eliminated the gift-giving hassle from the consumer's side and allowed Shopify to promote their clients' products based on the niched interests. Shopify's clients didn't have to spend lots of time on building their presence on the platform. They just had to opt in.
At the end, Shopify's efforts proved more than effective. With over 724,166 messages sent, GiftGuru was able to assist countless customers in finding the perfect present for themselves and their loved ones. Shopify helped its clients increase brand awareness and, ultimately, sales.
4. Tell A Story
Growing your business doesn't always mean striving for more sales or having more appointments. For Clark's, the goal was to engage their users using the art of story-telling. They launched a campaign called "Rats to Rudeboys", which entailed a character-focused narrative including several other media: from images to videos to music and messages.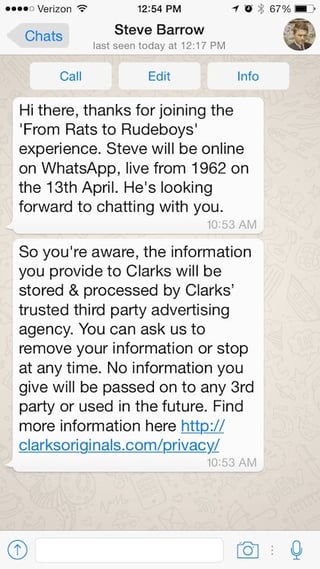 The international shoe retailer geared up with WhatsApp to connect consumers with "key figures from subcultures of the past 65 years." This was the brand's way of promoting the product Desert Boot using myth, history, and some creative marketing.
The brand's decision to partner up with WhatsApp is related to the increased focus on millennial markets. With WhatsApp live chat feature, Clark's is able to shift between written and oral storytelling--both of which are popular with younger demographics.
Which messaging app should you use?
Now that you know how to use these platforms, the next question is which one should you turn to? With messaging apps popping up left and right, it might be a little confusing when it's time to decide which apps deserve your attention.
Deciding the perfect messaging app for your business is no easy feat. There are tons of elements you should consider before you decide to launch a campaign. For instance, you might have to use more than one of these apps to deliver your message.
Most brands use different apps because they want to maximize social reach. For example, you can announce an event through Facebook Messenger's live chat, and then support it with an additional campaign on Kik to make sure the teenage segment of your audience is not left out. There's no one way to use these applications. However, it is important to know their strongest features and use them to your advantage.
For example, if you're looking to live stream an event, Snapchat or Facebook Messenger might be the best app for you. If you want to spread information within an exclusive circle of customers, then using WeChat and WhatsApp's group chat feature might prove more useful.
Knowing who your customers are, what they like, and where they are from are the key secrets to success. To learn more about top messaging applications and their audiences, check out the infographic from TextMagic (preview below).