Google recently announced that the search results will change once again. This time, it's the coveted star-ratings. In today's article, you'll learn what will change and why this update was necessary (according to Google).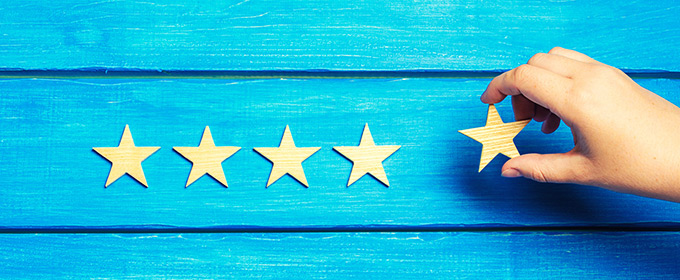 The Google "Reviews Rich Results" update
In short: The latest Google update is supposed to improve the rich results.
Search results supplemented by additional data can be extremely helpful in finding products or services, as the searcher gets more insights into the website before they click on it.
The stars (and other additional information) in the search results provide Google users with important information at a glance.
The problem, however, is that these enriched search results can be manipulated. Since everyone can theoretically edit the source code of their own website, until now it has been pretty easy to show off a fake star-rating next to your domain (even if it was risky to get caught by Google).
To counter this, Google has now decided that it will no longer present these (easily-manipulated) star-ratings in organic search results
Honest shop operators will probably see this as a good thing.
However, Google has taken this a step further and stated that they don't want to show any rating stars that can be construed as "self-serving".
An example:
There are two different third-party reviews providers (A and B) where customers can rate your offer. Both third-party providers offer integration for your website.
In third-party A, you have an average rating of 4.8/5 stars, but for third-party B you have an average rating of only 3.2/5.
As a shop owner, it's obvious which reviews you would choose to display in your rich results.
Since website operators can decide for themselves which rating profile they want to see on their website, Google describes this practice as "self-serving", which is why the reviews collected through third-party providers are no longer displayed in the search results (under the shop's domain).
Are all of the "star ratings" in the search results affected?
No. the new regulation is only for the star-ratings pertaining to the shop (reviews about the customer service and delivery of goods). This does not affect product reviews for individual articles.
Also, the star-ratings displayed in review profiles will still show up in the search results. In other words, if your shop's reviews are displayed on third-party (review) sites, they will still continue to be displayed in the search results under those reviews providers' domains.

Shop reviews star-ratings will still appear on third-party profile pages (i.e. trustedshops.co.uk), but not next to the domain itself (e.g. mmamats.co.uk).
Also excluded from this update are the "star-ratings" in paid Google ads (i.e. Google Ads and Google Shopping).
Again, everything there remains the same here.
Do you need to remove the collected (third party) reviews from your website?
No. Although Google no longer displays the self-serving "star-ratings" in organic search results, they continue to add value to potential customers visiting your website.
Although your stars won't appear under your domain in the search results, the reviews can still have a positive impact on your ranking, as it is a positive signal to your visitors, thus helping to boost conversions, time spent on the page, etc.
This is what shop owners should do
First of all, you should wait and see whether Google will actually change the system. Although Google has announced the change in its webmaster central blog, announcements by the search engine giant in the past have shown that they do not always come into effect.
Basically, you do not need to change anything in the configuration of your online shop, but it may just happen that your shop's star-rating will no longer appear in the organic search results of your online shop in the near future. However, since this is the same for all users, you will not experience a competitive disadvantage.
It's definitely worth trying to collect more product reviews as these star-ratings can still appear in the search results (all the more reason to focus on product page SEO).

Product review star-ratings still appear in search results next to a shop's domain.
When it comes to the Trusted Shops Google integration, nothing changes because the star-ratings still appear in paid ads as before.
For further changes, we will inform you of course and update the article!
Want to know how you can improve your Google ranking even further? You should definitely read this article: The Ultimate Ranking Guide or download the PDF version: