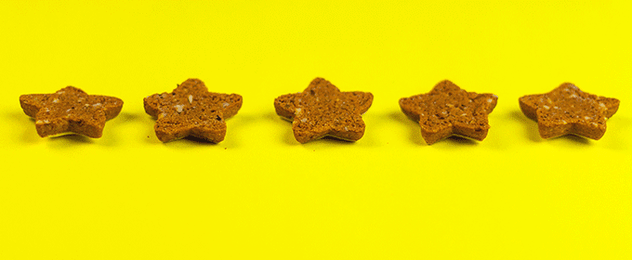 Product ratings display the product star ratings from your customers on both shopping ads and their Google Shopping property. These star ratings can help your shoppers see how highly rated your products are, thus helping them make a quicker purchase decision. These star ratings in your ads can improve your click through rates, your conversion rates and effectively also reduce your cost per customer through online advertising. With new geographies added to the program, retailers can benefit from expanded reach of their product reviews.
What do product ratings look like?
Let's take an example. Suppose you search for "iPhones" on Google UK, chances are that you will see something like this.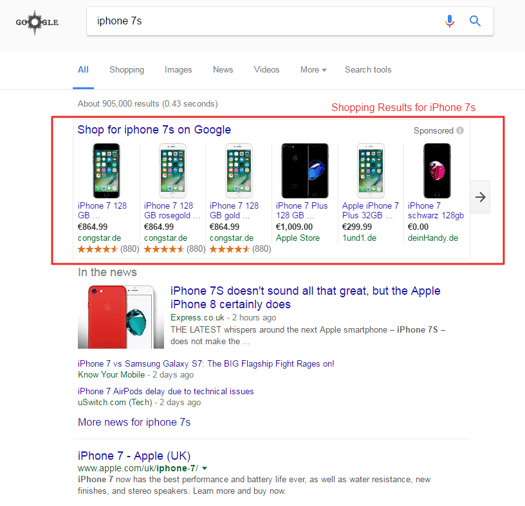 As you can see, some of these products show up with star ratings, while others do not. I was in Germany at the time I wrote this article,hence, I see localised results for my search. You should be able to see ads relevant to your region.
Why are product ratings important?
Now think of yourself as a potential shopper, which of these products do you find more appealing?
Although all these products are the same, it is quite likely that you choose the store which has many good ratings for the product.
According to Christian Siebert, our product owner for Product Ratings at Trusted Shops, "Product ads on Google that contain customer ratings result in a 5% higher click through rate (CTR) compared to products without star ratings."
As a customer, when I see ads with reviews from other shoppers, it automatically makes me more confident about the website and makes me more inclined to make a purchase as there is no element of doubt regarding quality.
Where do these star ratings show up?
This is where the new update comes into the picture. Product rating stars are displayed in the following countries:
United Kingdom

Australia

Austria (New)

Belgium (New)

Canada

France

Germany

Italy (New)

Japan

Netherlands (New)

Spain (New)

Switzerland (New)

USA
How do product ratings help me as an online retailer?
The benefits are immense. The internet makes it easy for any business to go international. With the help of these star ratings, your business in the UK can also compete with local stores of other countries. With better product ratings, you can now not only have customes in the UK, but also expand your business to other countries and use this feature to benefit from a level playing field.
Retailers selling products in any particular niche can benefit the most as competition will be low. As long as your infrastructure can handle the business influx, we recommend quickly expanding product ads to these countries as well within Europe.
How do I display these ratings?
Trusted Shops is an official partner for Google to source reviews. This means that all reviews collected by Trusted Shops can be picked up by Google to show product reviews.
The easiest way to start collecting and displaying these ratings in your product ads is to install Trusted Shops and start collecting them.
For your ads to start showing these stars, you must meet the following criteria:
A minimum of 50 reviews across all of your products

A product must have at least 3 reviews for star ratings to show on Shopping Ads, though products with fewer than 3 reviews are eligible to show star ratings on the Shopping property.
Hence, the quicker you install Trusted Shops, the quicker you can expand your business and get more value for your advertising spends. Contact Trusted Shops to know more about our Reviews and Ratings Services.
You may also use the link below to install our free trial and start collecting reviews in the next 10 minutes.
You can currently use our products to start collecting and displaying your reviews effeciently. Our customer success managers can help you understand how to use Trusted Shops to gain maximum reviews in the shortest amount of time.
At the moment our teams are working on integrating the system to work across all the new geographies as well and we will keep you informed when the changes are tested and perfected.
Till then, Happy Holidays and keep collecting reviews.