With Father's Day quickly approaching in June (UK), it's time for business owners to start thinking about promotions and sales for dad's big day. In today's blog, I wanted to have a look at what small businesses can do to boost their sales for the upcoming holiday.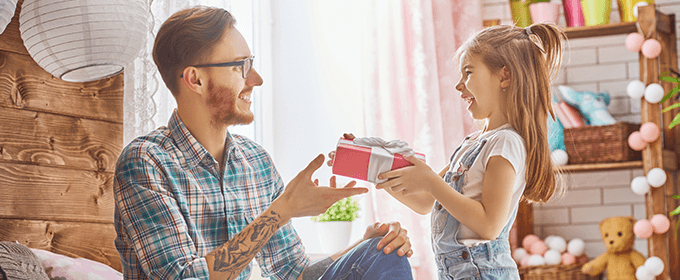 Father's Day in the UK
Before we get to the advice, I wanted to share an interesting statistic that I came across. According to Statista, Britons spend a lot of money on Father's Day. According to their numbers, that number should be near £700 million!
Source: Statista
Britons clearly love their dads! If £700 million retail spend is not reason enough for you to realise that investing some time (and money) into promoting Father's Day, I don't know what is.
Now, that you know the "why", let's look at the "how" with our Father's Day marketing tips:
#1 Get ready for Father's Day ahead of time
If you're new to running an online shop, I've got some good general advice for you: you'll want to plan all your website's annual sales way ahead of time. Not only does this help you avoid all that last-minute planning and adjustments, but it gives you a chance to promote your sale early enough to catch those non-procrastinating shoppers (don't look at me) and get them in your shop.
Remember, shop owners have got the famous summer slump to deal with, so if your site is up and your marketing is ready before the big day, you'll be able to make the most of this sale, which occurs during a relatively slow shopping period.
So, what can you do to prepare? Plan out your strategy and start getting to work. Do you want to create a special banner at the top of your page? Will you advertise the sale through Facebook and/or Google? If so, will you have a special landing page where ad-clickers will be sent? Many of these things take time to create and to implement, so it's best to get started a few months ahead of time.

#2 Run a Father's Day social media contest
Offering a simple discount for Father's Day might be enough to catch a few people's attention. Going one step further, you might want to consider having a giveaway of the "top dad products". However, there's a great opportunity you'd be missing out on with those suggestions. Taking it another step further, you should definitely consider having a social media contest.
Why? Customer Engagement – that's why. Sure, you can just give a product away. You'll get a few sign-ups that you can target with e-mail marketing later on, which is great, but in this day and age, it's worth the effort to build a relationship with your customers (and potential ones). This can be accomplished by having customers interact with your brand in some way and social media is the perfect tool for just that.
By having them share their "favourite dad moment", "dad image", or even "dad joke" and then hashtagging the post with your campaign slogan (e.g. #mydadiscoolerthanyourdad) and sharing them with their own followers, you'll not only be getting them to engage with your brand more and share the contest with their friends, but you'll also be creating an emotional connection to your brand.
Oh here's another good one: How do you make an octopus laugh? With ten-tickles.
#3 Have a "gift guide" on your website
From my personal history, my dad has always been harder to shop for than my mom. Usually, moms are happy enough just getting some flowers and/or chocolate. Dad's can be a bit more of a challenge though.
By creating a "gift guide" on your website, you can help your customers find the perfect gift for the dads in their lives. By segmenting all the different kinds of dads out there (i.e. "sports fan dad", "handy dad", "dad-joke dad", etc.), you're actually doing a great service for your shoppers. Of course, this can help guide them to your product pages quicker, which is your main goal, but anything you can do to get them to your product pages quickly is generally a good thing.
#4 Create "dad bundles"
Speaking of gift guides, you can also promote "dad bundles" for your Father's Day promotion. Bundle a few products together and sell them as such.
Sure, it's not a ground-breaking idea, but if you highlight the savings that shoppers get (i.e. Save £10 when you buy these two products together), this is a great way to promote the products while also getting rid of some surplus inventory at the same time.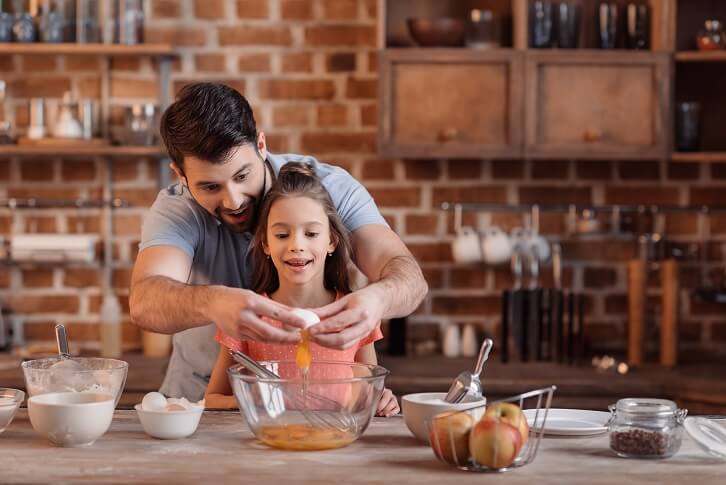 Some dads love to cook!
#5 Marketing!
This is a general piece of advice, but works together with all the suggestions mentioned above. Because Father's Day shoppers are not only children, you might want to try segmenting your ads for all your audiences. For example, you can target teenagers for some ads, moms for others, and even adults who are buying gifts for their (older) dads.
By knowing who you're marketing to, you can customise your ads to fit these different target audiences with different images and texts. This is called micro-targeting. It's also worth knowing which apps these target groups use. Though Instagram and Snapchat are used more by younger audiences, Pinterest is used more by the "mom" demographic, so you're targeting and messages should match.
Bonus Tip: Build trust
If you've noticed that you get a lot of visitors, but your conversions are lacking, this could very well be a sign that your website lacks "trust" elements. You might want to consider getting a product reviews platform for your site, so that your best customers can be advocates for your shop.
Similarly, getting 3rd party accreditation (like the Trusted Shops trustmark, which offers a 30-day money-back guarantee) can build up trust for your shop and give your shop's visitors some peace of mind when they contemplate buying from an unknown shop.
Another simple, yet effective tool for increasing conversions is an "exit-intent pop-up". These are pop-ups that show up only when the user moves their mouse icon towards the "X" of the browser. Recognising that the user is about to leave the website, the pop-up will show up offering an extra discount. By offering an extra 5% discount (or whatever you choose), you might be surprised by how many people will decide to give your shop a chance.
Conclusion
Planning website changes and your marketing efforts is definitely a bit of effort, but getting ready for Father's Day well in advance can pay off if you do it right. Not only is it a great way to sell products, but it's an opportunity for you to engage with your customers (and vice versa) and start building up a relationship with your customers.
This blog was updated on 24 April 2019.