When we look at e-commerce statistics, one thing we've known for years is that clothing is an industry that has succeeded immensely. One would think that as leaders of the fashion industry, Italian companies would dominate the online fashion world. In years past, this has not been the case. E-commerce was slow to grow in Italy for many reasons. However, this is slowly starting to change. Keep reading to learn more about the Italian e-commerce market.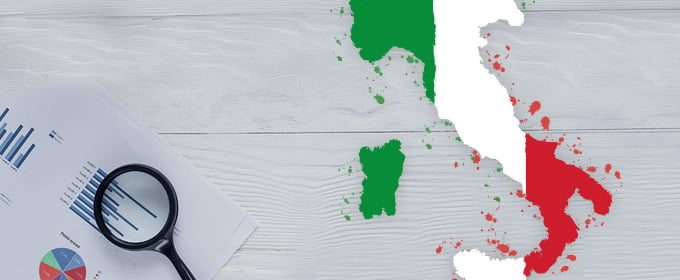 It's no secret that Italians are big on non-verbal communication (i.e. they use hand gestures, and use physical contact). In fact, it's pretty much standard. If you do business with Italians, try to embrace this friendly art of communication. Keeping an "unfriendly" distance can come across as distrustful.
Similarly, small talk is also considered normal for business meetings. Getting straight to the point and avoiding polite conversation can also come across as disinterested in the potential partnership.
In other words, stay relaxed. Be friendly. Don't rush to get "straight to business".
It's also worth noting that hierarchy is also quite important in Italy. Job titles are important. In fact, business cards often contain educational and/or professional qualifications alongside their contact information and job titles.
Italian consumer shopping habits
Let's look at some of the interesting shopping habits unique to Italian shoppers.
Which reviews to Italian shoppers trust?
Statista surveyed Italian shoppers to see what they think about when they look at a shop's star-ratings and reviews. Interestingly, it turns out that Italians actually "trust" the one-star reviews the most. This reflects the cynical point of view that Italian shoppers have. Perhaps, this is why e-commerce has been a bit slow to grow in Italy until now.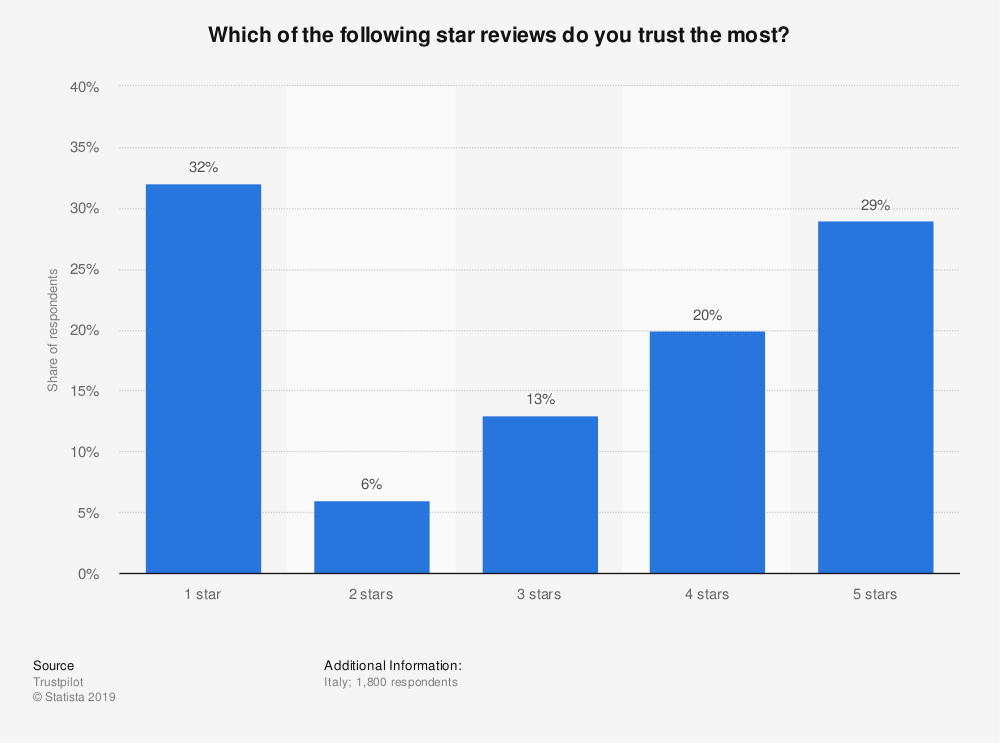 Source: Statista
In any case, this goes to show you why it is important to react to your reviews, especially your negative reviews. In reality, this is just reflective of the general customer attitude. Shoppers want to know what they're in store for, even in the worst-case scenario.
Shoppers also want to see how a shop reacts to its negative reviews. Do they make poor excuses? Are they apologetic? Was this bad experience an anomaly? Or does the shop completely ignore negative feedback?
Italians buying from abroad
This might seem surprising, but China is actually not the leader for exporting to Italy. One of Italy's European neighbours takes that honour: the United Kingdom! In 2018, 4.6 million Italian online shoppers made purchases originating in the UK.
China did come in a close second place (4.3 million), with Germany rounding out the top three (3.8 million). After that comes the USA (2.1 million), France (1.4 million) and Spain (1.1) million.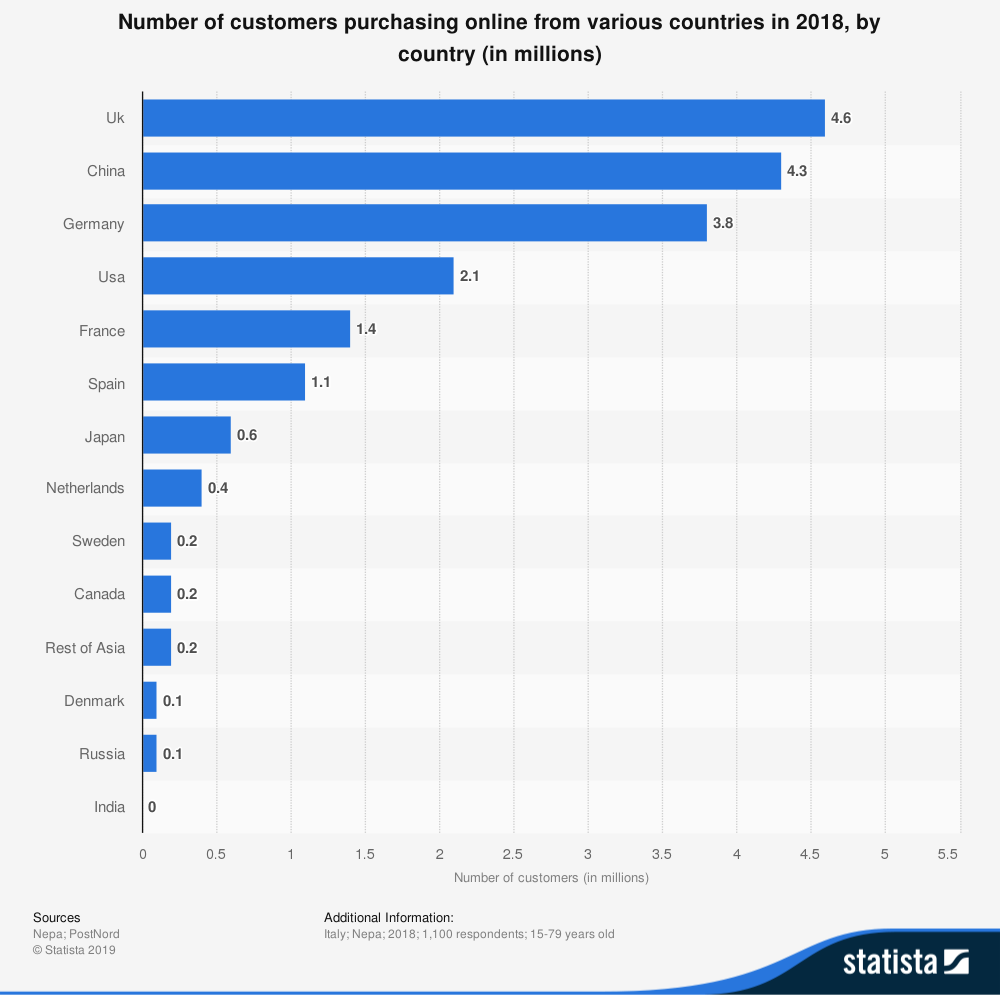 Source: Statista
It's clear that Italian shoppers are not necessarily swayed by price. Shipping times and quality also matter to Italian shoppers. The fact that the UK and Germany are competitive with China proves this.
Italian shoppers delivery preferences
When asked about the reasons why they choose certain delivery methods, Italian shoppers overwhelmingly chose one reason above the others: convenience (62.6%). To be more specific, "It is more convenient for my schedule" was the reason given.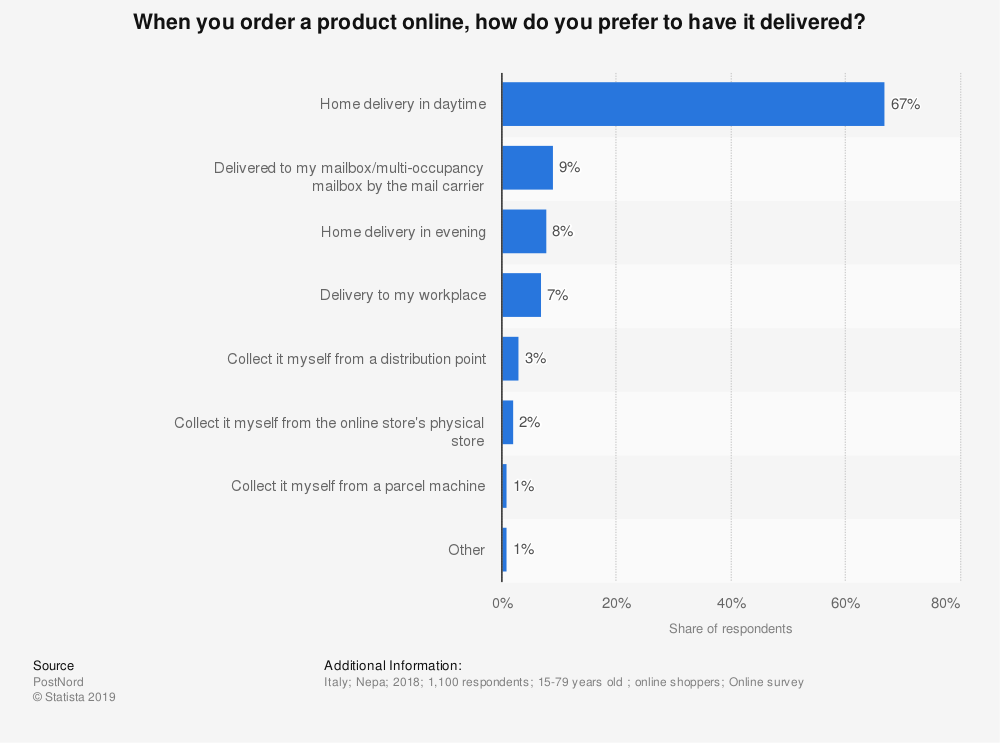 Source: Statista
As you can see, issues like ease-of-delivery, trust, etc. were not nearly as prevalent in the minds of Italian shoppers. Similarly to Spanish shoppers, convenience is important, so make sure you give Italians plenty of delivery options in terms of carriers, but also in terms of addresses (some people prefer getting products delivered to their office), as well as times for delivery.
Conclusion
As the Italian market continues to grow, it could make sense for your business to enter now. After all, it is relatively cheap to invest in online marketing and there are fewer options for shoppers in Italy. For an in-depth overview of the Italian e-commerce market, download our free guide!