In our third edition of e-commerce compact 2020, you will read about Google having added reports for Review Snippets in Google Search Console and a digital trends study by Hootsuite and We Are Social. Enjoy!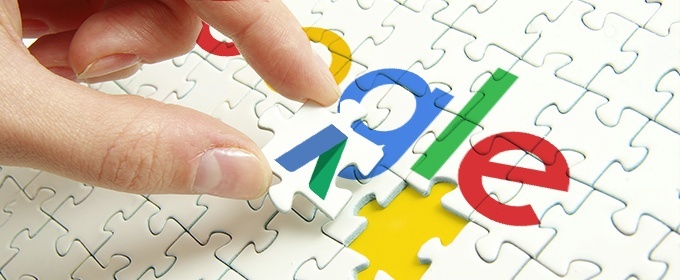 Google announces reports for Review Snippets in the Google Search Console
Google announced on Monday that they will offer support for review snippets in Google Search Console, including new reports to help you find any issues with the implementation and monitor how this rich result type improves your site's performance.
A Review Snippet is a short excerpt of a review or a rating from a website, usually an average of the combined rating scores from many reviewers.
When Google finds valid reviews or ratings markup, they may show a rich result (formerly called "rich snippets") that includes stars and other summary info directly in the search results.
To help site owners, Google now offers snippet reports in the Search Console for sites that have implemented reviews or ratings structured data.
The report allows you to see issues, warnings and valid pages for the markup implemented on your site.
When you fix an issue, you can use the report to confirm it, which will lead to a process in which Google will re-crawl your affected pages.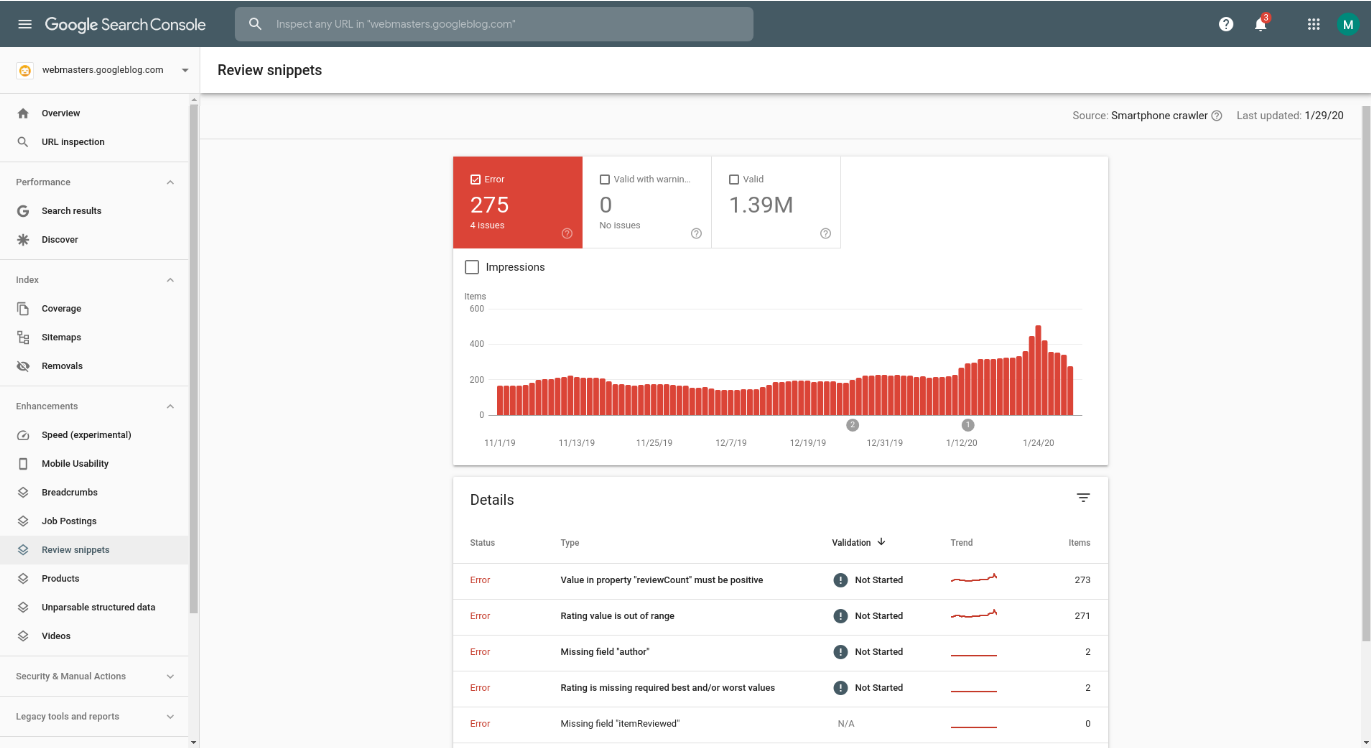 The Search Console Performance report also now allows you to see the performance of your reviews using the "Review Snipper" search appearance filter.
This means that you can view the impressions, clicks, and click-through rate (CTR) results of your Review Snippet pages and check out their performance.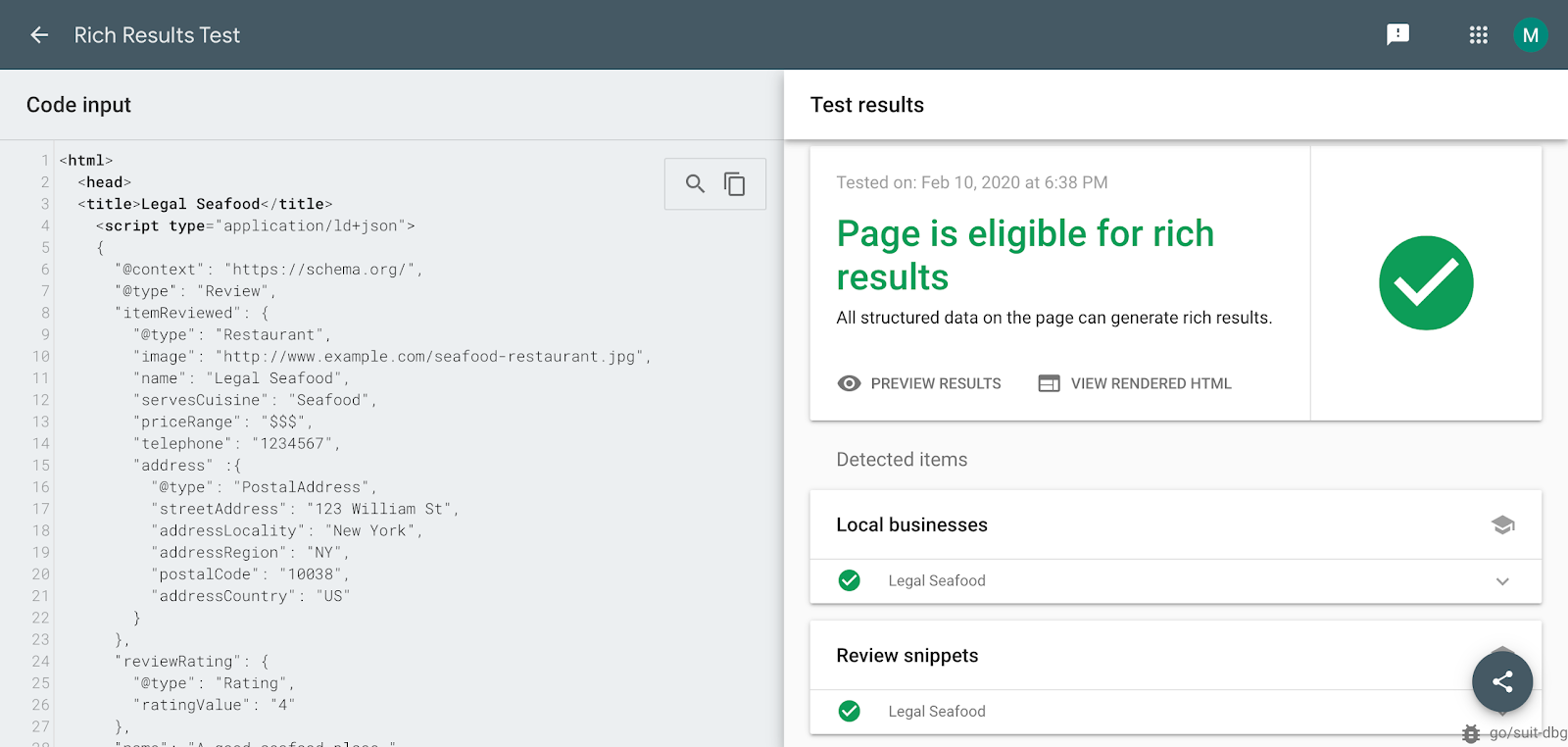 Source:
Google Webmaster Blog
If you have added structured data to your website in the form of Review Snippets, you can test them with the Rich Search Results Test tool.
You can test a code snippet or submit a URL of a page. The test will show any errors or suggestions for your structured data.
Study shows: Almost half of the world population uses social media
Hootsuite and We Are Social, the global social media creative agency, have published their latest annual report "Digital 2020" on social media and digital trends worldwide.
Key findings include the continuing gender gap in social media use, the global growth in the use of voice interfaces, and concerns about the security of personal information.
4.54 billion people are currently online. Half of all internet users use ad-blockers.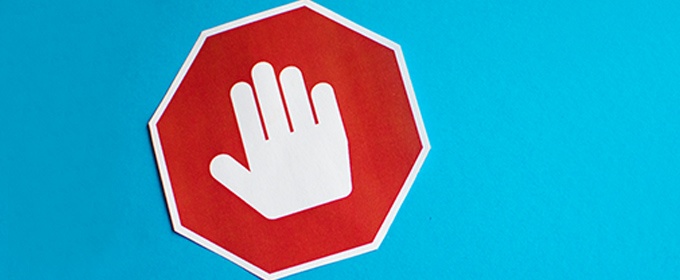 4.54 billion people – almost 60% of the world's population – are now online. That is 298 million (or seven percent) more than last year.
The average internet user will be online for six hours and 43 minutes per day this year. That is a total of more than 100 days per year.
In 2020, world-wide internet users combined will be online for about 1.25 billion years. The front-runners are the inhabitants of the Philippines, who spend an average of nine hours and 45 minutes per day online.
Google and YouTube are again to be the most visited websites worldwide this year. However, Yahoo! continues to be very popular and registers more traffic than Amazon.com.
Recommended reading: How Can You Add Favicons to Google Search Results?
People's concerns about sharing their personal data are high. Nearly two-thirds (64%) of internet users between 16 and 64 worry about how companies are using their data.
56% of the users over the age of 18 are worried by fake news and 49% of users between 16 and 64 use ad-blockers every month.
Social networks: more than half of the world population is active on social media (321 million new users)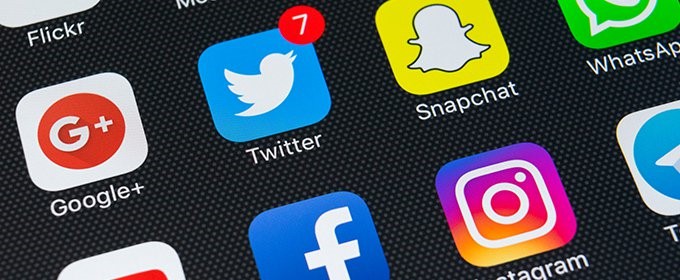 49% of the total population or 3.8 billion people use social media. Compared to the previous year, this represents an increase of 321 million social media users, or nine percent. Women only make up 45% of worldwide social media users.
The people of the Philippines are also the most active in this area, with three hours and 53 minutes per day. The global average of daily use of social networks is two hours and 24 minutes. This corresponds to more than a third of total web usage.
Facebook, YouTube and WhatsApp are the most frequently used networks worldwide. TikTok, in seventh place, now has 800 million active users per month, 500 million of which come from China.
Recommended reading: What is TikTok and How Can You Use it to Promote Your Business?
The target group for advertising on the major social platforms has also grown.
Facebook data shows growth of one percent in the last quarter, while Instagram's advertising audience has grown by nearly six percent over the same period.
After Pinterest added a number of other countries to its targeting options, the figures here even rose by twelve percent.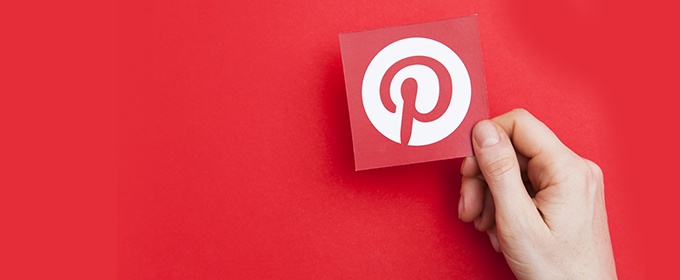 Mobile communication and e-commerce : The 5G standard enables internet speeds of more than 100 Mbps
In 2020, there will be 5.19 billion mobile users worldwide. For the first time, even more than half (50.1%) of online time will be spent on mobile devices.
The 5G standard is already making an impact here: the average speed of mobile data connections in South Korea is currently +100 Mbps (million bits per second), compared to only 51 Mbps last year.
Only nine percent of the time we spend online on mobile devices is spent surfing on the net. Ten of eleven minutes are spent on mobile applications.
74% of internet users between 16 and 64 years bought a product online in the past month, 52% of them via their mobile phone. The smartphone has become the favourite device for online shopping.
Don't miss out on any opportunities and learn about m-commerce. Download our free whitepaper now!
In 2019, online shoppers spent more than three trillion US dollars in the B2C segment, which represents an increase of nine percent compared to the previous year.
The average shopper made online purchases worth 500 dollars for consumer goods alone.
Meanwhile, consumers are increasingly paying digitally, i.e. on the internet or mobile via smartphone apps.
With an annual sum of 4.14 trillions dollars in 2019, this represents an increase of 15% over the previous year.
The worldwide use of crypto-currencies is also increasing – from 5.6% of internet users aged 16 to 64 in the previous year to 7.4% in 2020.
43% use voice devices and services
The use of voice interfaces increased by more than nine percent last year. 43.2% of internet users between the ages of 16 and 64 use voice search every month and give voice commands to different devices.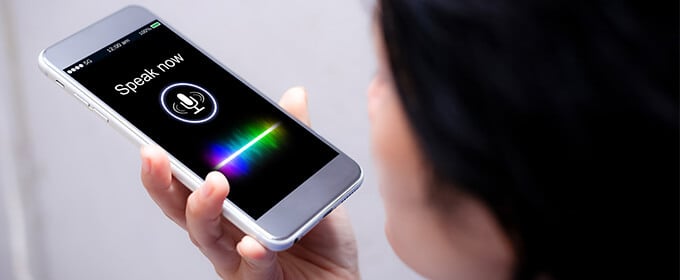 In the previous year, this figure was at 39.5 percent.
The number of households worldwide that own at least one smart home device increased by a third to 134.1 million last year.
Eleven percent of internet users now own a smart home device. The leaders are Great Britain and the USA, where 17% and 16% respectively have a corresponding device at home.
---
Download our free ultimate instagram guide for businesses!