E-commerce has no doubt had an impact on the high street. However, small businesses and local shops can benefit from digital tools as well. Today, we'll have a look at some digital strategies to increase foot traffic and sales for local businesses.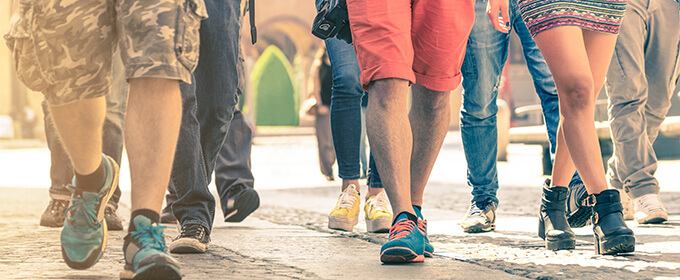 Local SEO
We've covered this topic in more detail in our blog about local SEO, but let's have a quick look at some of the most useful strategies here.
Google My Business
Want to show up on local searches (Google Search and Maps)? Make sure you get registered with Google My Business so potential customers can discover your business when the google your keywords.
By registering, your business name, address (and thus, your location), phone number, photos, opening hours, attributes (wheelchair accessible, free wifi, etc.) and online reviews are displayed in the search results.
You should do your best to take advantage and optimise your profile. The more information you show, the better. For example, according to Google, businesses that show photos see 35% more clicks to their website.
You will need to verify your account, so this may take some time.
Local blog posts
What SEO strategy is complete without talking about content?
Publish some articles from time to time to inform people about your local shop. It can even be a subtle mention in an article that isn't even about a local topic. For example, if you sell a vegan cookbook, you can write about a sample recipe, and include a sentence about being able to pick up a copy at your physical shop (and include the location).
Additionally, you can write about local events (whether you host them or not). By talking about these local events, you can boost your local relevance in search engines.
If you have a relatively niche product line, you might not need to publish very often for boosting local results. However, if you have a lot of competition, you might want to post a bit more regularly.
Tweak your website
Make sure that your website's pages include the city you are in. For example, you can include it in the title of your homepage - use Thor's Comic Books of London instead of just Thor's Comic Books, even if your shop name is the only one of it's kind in the world.
Social Media
Social media can be a nice way to get in touch with local customers. We have a great guide on using Instagram for businesses.
Hashtags
Surely, you know about hashtags (#) by now.
If you don't, it's a symbol that is used in social media to make content discoverable. Think of it as a way of indexing your posts with its relevant keywords. Users often use these keywords/hashtags to search for content that interests them. If you do a good job, your brand can get discovered this way.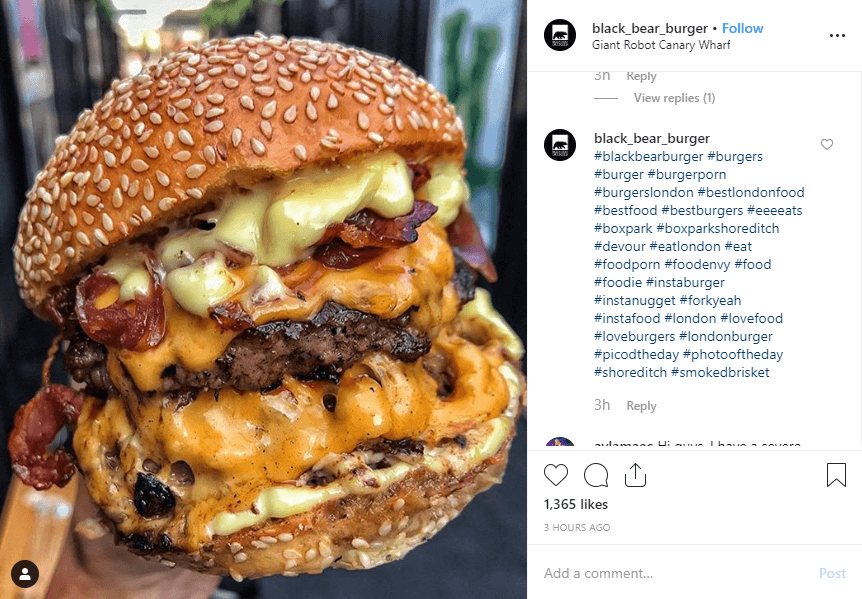 In the above example from Black Bear Burger, they use hashtags like #london #londonburger and #shoreditch to get local users to discover their images (Source: Black Bear Burger)
For example, let's say your brand focuses on American sports, but your shop is located in Manchester, England.
You might post an image of a new cap that your shop sells. The image is great. Your caption might say "The New York Knicks might not be contenders, but at least they look great." Underneath this caption, you can include hashtags like #NYKnicks #NBA #Basketball #UK and #Manchester just to name a few. Try to include a hashtag of your shop's name while you're at it (#HerculesSports).
Digital ads for local businesses
Since we're on the topic of social media, it's worth noting that there's more you can do than creating some posts. Of course, I'm talking about online marketing - specifically, digital ads.
Social media advertising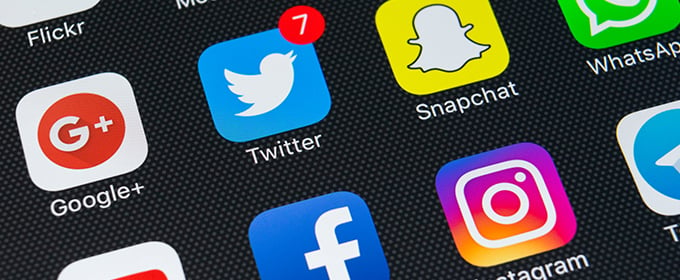 Whether you're on Facebook, Twitter, Instagram, or Pinterest (or whichever social media platform you choose), social media offers great options to target your ideal customer. One of the best targeting options is the geographic one - ideal for local businesses.
Location-based services
Some apps and companies find success by focussing on local events and promotions. Here are a few examples:
Groupon
Groupon has been around for a while and there are some similar services out there, but it might something to keep in mind for your local business as well.
In case, you're not familiar with Groupon, it is a website that offers discounted prices on local products, events, or services.

Offering big discounts get people into your shop (Source: Groupon)
As a consumer, you can really find some great deals on Groupon sometimes. As a local business, it gets foot traffic to your business. Sure, the main ticket or product might need to be generously discounted, but it could be a great way to get first-time customers and perhaps inspire them to come back and buy from you again.
Waze
Waze can also be a great location-based app for acquiring new customers. We also have an extensive guide to advertising on Waze, but if you've never heard of the app, here is the basic concept: it is a GPS-based navigation app that relies on user input to have more accurate live traffic information.
In other words, the app's users actively and passively report on traffic updates so that the app can give other users better route options (i.e. to avoid traffic). It's a very popular app in many countries (there are about 2 million active users in the UK).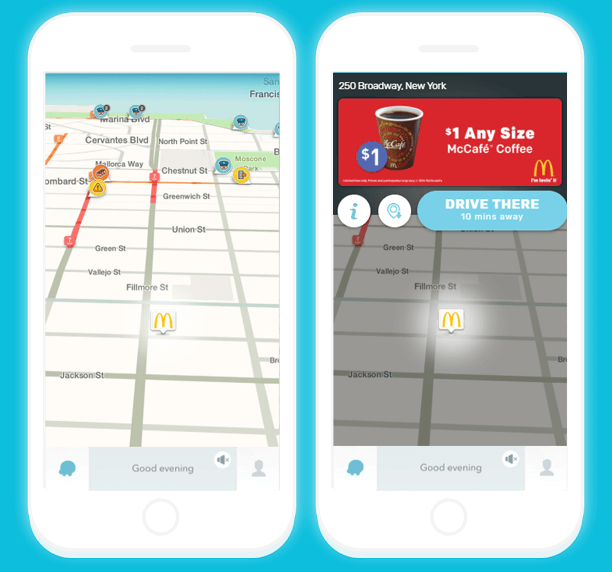 (Source: Waze)
In recent years, Waze started placing small ads in the app. They promote local businesses that are on a user's route, thus being highly relevant.
Local inventory ads
These Google ads are exactly what they sound like. Local inventory ads let businesses display their products and shop info to nearby users searching on Google. If a user clicks on your ad, they can see your shop on a Google-hosted page (called the local storefront). Here, they'll see information about inventory, opening times, and directions.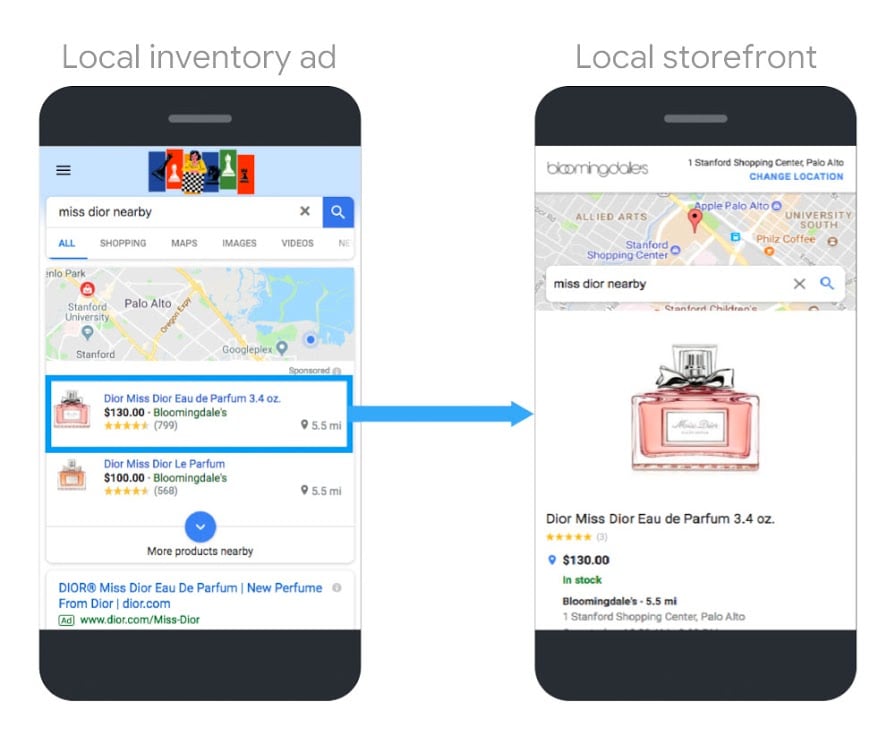 (Source: Google)
To get more information about Google local inventory ads, including information on the verification process, visit Google's support page.
Leverage local reviews
Getting local reviews for your shop can also boost your foot traffic to your local business. By displaying the feedback you get from your customers, users will trust your business more, especially for a specific location.
According to a Bright Local annual survey, 86% of consumers read reviews for local businesses - and of user aged 18-34, that number goes up to 95%.
Tip: be sure to respond to negative reviews. It's better to acknowledge some bad feedback then to simply delete (if a business has only perfect reviews, it is actually less trustworthy). Take the opportunity to showcase your great customer service!
Conclusion
As e-commerce slowly grabs a larger share of the retail pie, it's important for physical shops to embrace the internet and use digital tools to their advantage. With a small effort, people will be able to find your shop on Google maps and with a little financial investment, you can reach out to users on social media as well. You might be surprised by the outcome!