Having a social media presence nowadays is essential and should be a part of every marketing strategy. It is not always easy to find a way to stand out of the crowd. This is where your content comes into the picture - it should be creative and interesting to your followers. Today, we'll look at what to keep in mind when creating a social media campaign. We'll also be showing you 15 different content ideas to help you develop your social media presence.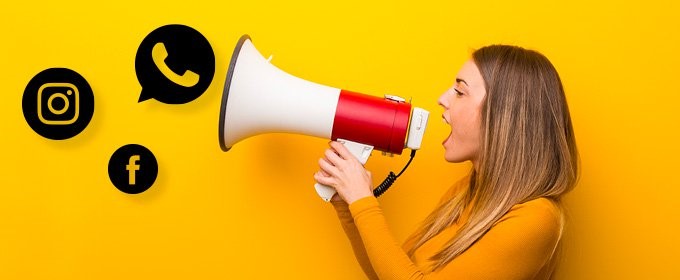 Which channel do I choose?
Choosing the right social media channel for your business can have a great impact on your success. So, before you choose them, make sure you know that your target audience is using them. Many channels are primarily used by certain target audiences and not by others.
You won't find a network where your target audience is exclusively presented, but some networks are used more by a certain age group.
For example, if you are a young fashion company that sells clothes for teenage girls, you should not be advertising your products on a platform where adults are mainly present (e.g. LinkedIn).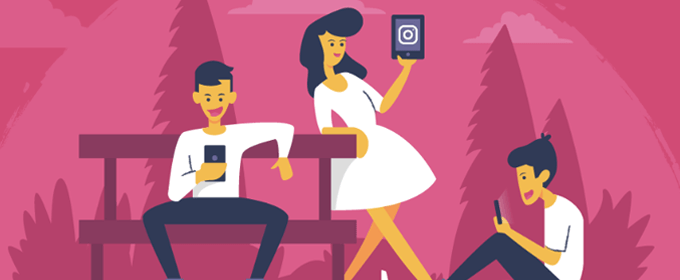 Therefore, it is very important to choose the right platform as this is the key issue to a successful social media marketing strategy.
There are a lot of platforms you can choose from, all of which have a different focus when it comes to content:
Snapchat

Facebook

Instagram

Pinterest

Twitter

LinkedIn
The golden rule: quality comes before quantity
After you've chosen which social network(s) you'll focus on, the decision on content creation is the next most important thing. After all, it convinces the customer of your company.
Since new content is uploaded daily, users are overwhelmed with new things to read, listen to, and watch. In addition, the attention span of users is very short. Therefore, you have to produce interesting and creative content so that you attract the attention of your followers.
The content should appeal to your audience and show them what your company represents. Posts that do not attract attention will just be overlooked and ignored. Coordinate your goals with your content and ask yourself what your target group might be interested in.
Concerning the frequency of your postings, you should definitely focus on quality rather than quantity. Good content in general takes time and should be thought through as it represents your brand and your company.
In order to have an overview of your content and future content plans, you should create a document to see what you have already done and what ideas you have for the following months.
If you upload good content, it will encourage users to interact with you and your brand. This means that your followers will comment, like, and share your posts.
FREE DOWNLOAD: Build loyalty through customer engagement - a free whitepaper!
Content ideas
As we have already mentioned, creating new and interesting content can be a daily challenge, even for established media experts.
However, the more effort you put into creating unique and interesting content, the more entertaining and exciting your feed will be for your followers.
If you upload the same type of posts weekly, this can result in losing followers and potential customers.

By creating different posts, you will also achieve different goals, such as increasing your reach or interacting with users.
Be authentic!
Followers love it when you are authentic and show your character with your content. If you are approachable for your followers, you will most likely stand out of the crowd.
So, be honest and transparent with your content. Users nowadays can recognise fake content quite quickly and notice when a brand or a company is not being honest.
Fake content could be a picture which is edited so much that it does not represent the product in real life and seems to good to be true. This kind of content loses credibility.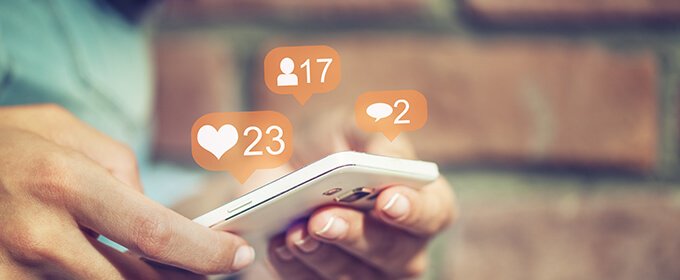 Show your followers where your products are made, what they are made of or where the product design process takes place.
Errors can happen any time and your first reaction might be to delete these. However, it is best to show your users that you are also only human. React to the post and learn from from your mistakes.
Let's now have a look at a few different content ideas with which you can make your feed interesting and appealing to your followers:
#1 Answer your followers' questions
Maybe your followers have questions about your products or company in general? Answer these via blog post, videos, or directly in the comments. Twitter is basically based on this concept. By "tagging" (or mentioning) your followers directly in your posts, you can also boost loyalty and encourage others to write to you as well.
#2 Behind the scenes
Take your audience behind the scenes of your company and show them what is happening. This can be a picture of people working on a design or a video which gives a small tour of your office. This can help build a relationship with your audience and it can give your company a more human face.
#3 User-generated content
Ask your customers to take a picture of your product or take a video of it in action. Repost a customer review or create your own graphic with the product and the customer's testimonial. Again, be sure to tag them (and thank them).
#4 Contest
Social media contests in general will encourage your followers to engage with your brand more. Very often, the prerequisites to participate in the contest is that a picture is shared, a certain hashtag is used, or the company's social media page needs to be followed.
#5 Refer to other profiles
If you share another company's page it might return the favour. This type of content gives you the opportunity to get the followers of other companies interested in your page and increase your number.
#6 Go live
Many networks offer the possibility of going live and interacting with your followers. You can go live every week on a specific day, so that they know when you will be online.
#7 Ask your followers a question
Get them to interact with you over a question. Ask them which content they like or what they would like to know about you as a company. With Instagram, for example, you can create a poll for users to answer.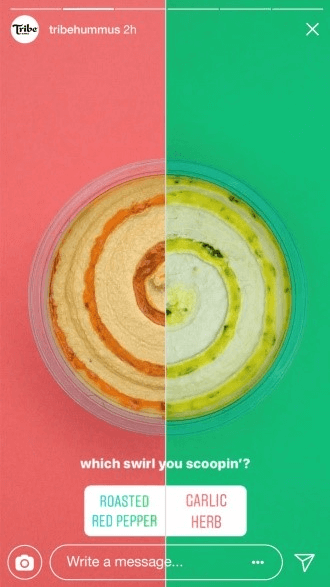 (Source: Tribehummus)
#8 Videos
Studies have shown that videos have a 135% greater reach than pictures. Whether these are product videos, "how to" videos, unboxing videos, or a video about your company, they can have a great impact.
#9 Stories
The Stories feature (read more about it in our Instagram blog) is currently one of the most important and popular among users on Snapchat, Instagram and Facebook. They disappear within 24 hours and are therefore very exclusive. Users only have a certain time frame to access the information. They also appear in between other users' stories.
#10 Graphics
In addition to videos, graphics have become an important part of content creation. They offer good insights and are often very interesting for your followers. This can include posters or infographics.
#11 Introduce your team
As we have already mentioned, authenticity and personality are very important when it comes to your social media marketing strategy. Introduce your team and show the users who is working behind your brand or company.
Tip: Your About Us page is the perfect place for some of this content as well.
#12 Share events
As an expert in your industry, you might know of events which will be taking place in the near future. Let your followers know where they will be taking place and whether you will be there, too.
#13 Social Media Ads
These are available on Instagram, Facebook, Snapchat, Twitter and Pinterest and include tools to analyse your reach and impressions.
#14 Latest news
Inform your followers about the recent changes and updates in your industry and establish yourself as an opinion leader.
#15 Job advertisement
Use social media to attract new employees. A post on your social media channel will most likely address the right candidates, because they are the ones who (love and) are already interested in you and your company.
Use #Hashtags!
Hashtags are a very important part of your strategy. Use keywords that describe the image or video well and put a "#" in front of it.
There are two basic strategies you can use when using hashtags:
Use popular hashtags (example: #love #instagood #photooftheday)

Find keywords that are not very popular but are actively used by your target audience
The first strategy is very helpful if your primary goal is to gain followers. However, if you decide to follow the second strategy a smaller number of users will find you pictures and videos, but your target group will find them easier, especially if it is a niche market.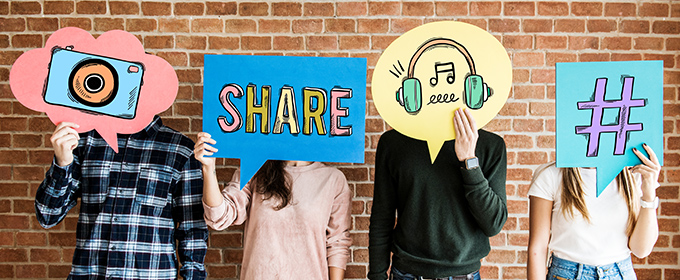 Remember, quality goes before quantity, so don't underestimate the power of an "unpopular" hashtag. It's better to have 1,000 followers who are highly interested in your content and interact with it than 10,000 followers who are not really interested in what you post. Think of the second strategy similar to a long tail keyword SEO strategy (less searches, but highly targeted).
Be careful and don't use too many hashtags as you don't want these to dominate the text that you write. If you want to prevent this, you can post the hashtags in the comments section. They can still get discovered without being so much of a distraction.
Tip: If you've created a hashtag that represents your company, however, nobody really knows it exists. Share it in your offline advertising campaigns. Print it on your print ads and present it at important events.
Conclusion
We have seen that good and high quality content is essential if you want to be successful with your social media marketing strategy. Be creative and create interesting content that will get your followers to interact with your brand.
Find out how to develop your content marketing strategy with our free whitepaper!