Showing your star ratings in Google ads is an effective way to increase your click-through rates and can result in lower CPCs and better rankings. Until now, one requirement for showing the star ratings was having collected at least 150 reviews per domain. From the beginning of October, Google will lower this threshold to 100 reviews per country. Continue reading if you want to find out more on this.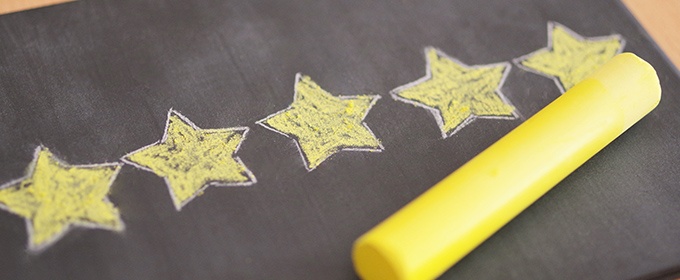 In Google text ads and Google Shopping, an online shop's overall rating can be shown in the form of eye-catching stars. The reviews collected by a shop are aggregated according to the respective domain. This means that Google checks whether reviews have been collected for the domain to which the ads are linked.
One of the prerequisites for displaying the stars (on Google "seller ratings") is the number of reviews collected. Initially, 30 reviews collected over the preceding 12 months were required to see the star ratings on Google. A few years ago, Google increased this threshold to 150. At the beginning of October, it will change again to 100 reviews.
A further change: the number of reviews will be calculated per country. This means that in order to display the stars for users in Germany, you must have collected 100 reviews from Germany. For the stars to be shown in Austria, 100 reviews from Austria must be available, etc.
If you focus on one target market, this change gives you the chance to display the stars in your ads with fewer reviews.
If you operate in several markets and collect reviews specifically for each country, you should analyse early on whether you can reach the 100 required reviews for all markets.
By the way, the Trusted Shops review feed already sends Google the country of origin matching your target market. The requirement of a minimum overall rating of 3.5 remains unaffected by the changes described above.
If you have any questions about reviews and the Google stars, please feel free to contact us!