Sweaty palms, increased heart-rates, butterflies in your stomach. Whether we are searching for Mr. Right, choosing a puppy, or looking at a new pair of Nike sneakers, we love to fall in love at first sight. In today's article, we're going to make sure your shop's visitors feel the same way.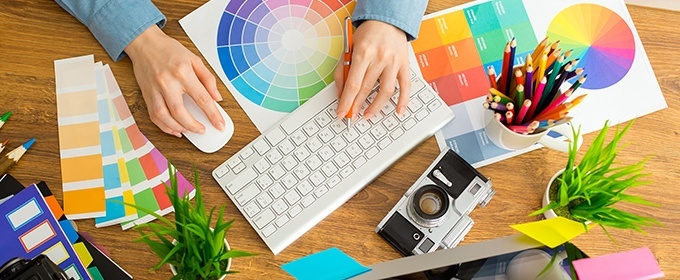 Whether you believe in love at first sight or not, there's no denying that first impressions count. When it comes to the online shopping (where your competitors are just a mouse-click away), this is even truer than ever before. Here are five techniques to get your customers' hearts beating faster.
1. Reduce the complexity
Have you ever visited a website overloaded with text? What happens? You have to orient yourself, read sentence by sentence, and struggle to find your desired product. In other words, you are forced to think.
If you want to improve the customer journey, you should be the one to do some thinking. Just like the best teachers in the world, you should aim to turn something complicated into the basics.
Eye-tracking studies have shown that when we look at a website, our eyes tend to move from top to bottom. Therefore, you should design your website simply and clearly so that the essence of your shop is recognisable at a glance. In other words, don't clutter up your page too much.
How?


Dropbox learned that shorter texts get read more often.
Keep your language simple. Don't try to puff up your texts with complex words. Write how people talk.

Express your content in graphics, numbers, or pictures.

Subdivide longer texts with headers that summarise the benefits of the section.

Use a call-to-action (CTA) button to guide your website visitors to a specific behaviour. Tip: make the button a different, eye-catching colour.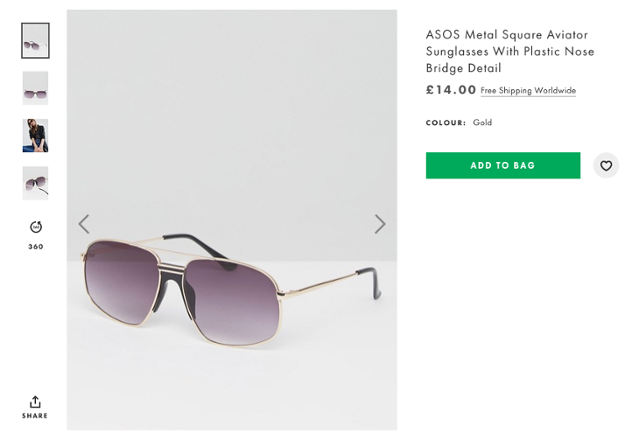 The green "Add to bag" button really stands out from simple design on the ASOS website.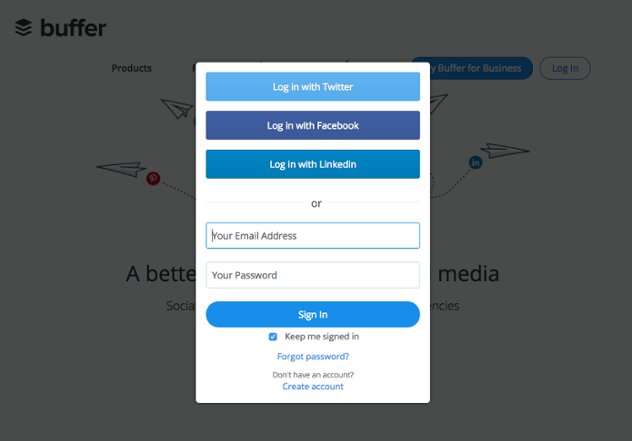 2. Be human
Your website is often the first point of contact with your customers. Besides keeping an eye on the length and visual elements of your content, using the right tone is crucial. This should be consistent with your corporate culture and consistent across all sales channels.
Authenticity also plays a decisive role in visual language. No-go's are stock photos that are too staged and unnatural. The smoothie brand, Innocent, showed the absurdity of some stock photos in 2016 on Twitter.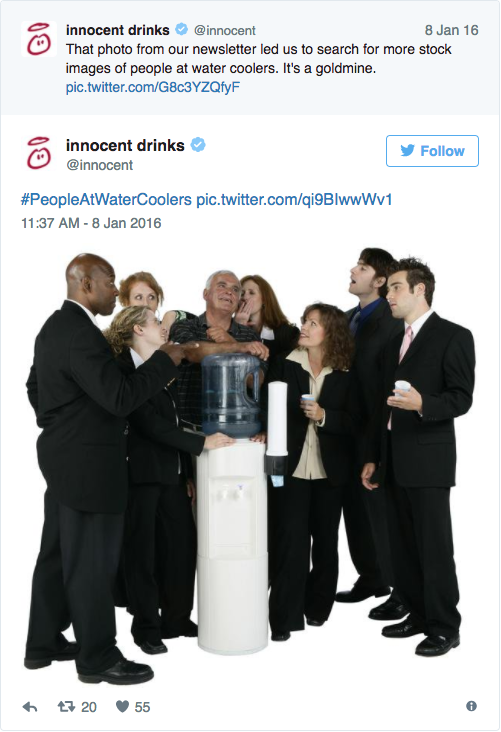 If you've ever worked in an office, you know that "water cooler meetings" look different than this.
Sometimes, emojis can help convey the right tone. If you finish a sentence with a smiley, it will appear more friendly. Be sure to do this only if it fits your brand. If you think that it does indeed fit your brand's image, then be sure not to overdo it. You don't want to come across as an emoji-obsessed teenager on your website.
How?

Create a style guide: Define certain aspects of your brand. How do you address customers? Formally or informally? Can you use emojis in your emails? Are certain words capitalised? A style guide can clarify all those important questions about tonality, style, spelling, and grammar.

About Us page: E-commerce is naturally a less-personal experience than visiting a local mom-and-pop shop. Despite that, online shoppers still like to know who they are dealing with. Present your motivations and the people behind your company in an About Us page.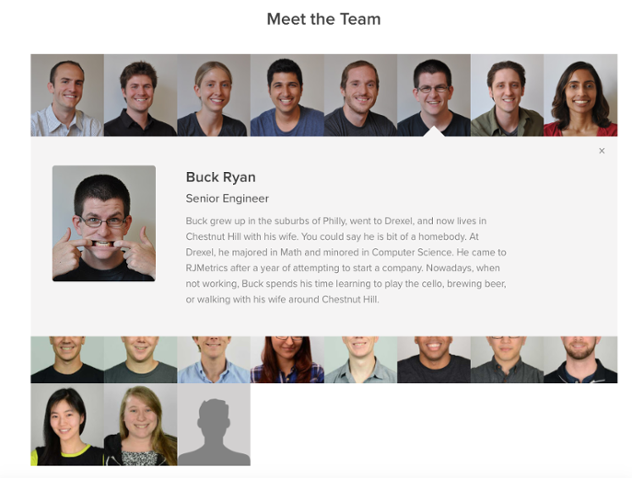 The About Us page for RJ Metrics is proof that you can give software companies a face.
Social media: How did the last employee outing go? What does your office look like? How does your warehouse system work? Give your customers a look behind the scenes on your social media channels. Use social media buttons in your shop's footer to link to your profiles on Facebook, Twitter, Instagram and more.

Storytelling: Try not to bore your visitors with too many numbers or dry lists. Information perceived as a story activates more regions in the brain and can be remembered better and for a longer period of time.

Great images: Finding the right image from a stock photo site can sometimes be painful. However, not every shop can afford the prices for these services. Dustin Senos put together a nice list of free stock photo sites in this Medium article.
3. Transparency
Open and clear communication reduces questions and concerns. This, in turn, reduces mental blocks during the customer journey. Make sure you go through your website (and the customer journey) yourself from time to time. Do any questions pop in your head along the way? Where are the ambiguities?
For example, with a software solution, visitors should be able to see prices directly without having to scour your website. Contact details should also be easy to find.
Your website should also contain a page that covers topics such as data privacy, returns, and other legal topics that might be relevant to your customers. Transparent communication promotes trust, especially in e-commerce.
How?
Inventory: Show shoppers the product availability in real-time. This will save your customers doubts, hassle, and annoyance if they decide on a product only to learn that it is out of stock. Knowing there is a limited supply available may even add a sense of urgency for visitors.

Shipping costs: In many online shops, the shipping costs are added suddenly at the end of the checkout process. This destroys the customer experience because the customer needs to reassess the situation and the previous steps may have been wasted. They may also feel deceived by your shop.

Delivery Area: One of the most frustrating experiences of online shopping is when you are informed after submitting the order that the provider does not deliver to the region where you live. If you deliver only to certain countries, inform your customers beforehand or create a drop-down menu that only lists the countries that you ship to in the address form.

Delivery tracking: Uncertainty makes waiting times appear longer - that's just a fact. Enable (and highlight) delivery tracking for your customers.
4. Offer immediate support
There is a certain level of comfort and efficiency that online shoppers expect. Above all, they want their questions clarified quickly. A Forrester study found that 57% of all customers will leave your website if they do not get an immediate answer to their question.
Live chat is the only way to offer instant support without the need to change channels. No one stays on a web page until they receive an answer to their customer service email. While support over the phone theoretically provides immediate help, it also requires a change of media, away from the website - not to mention the annoying time on hold.
If you integrate a live chat window on your website, the customer journey will not be interrupted when a question arises. Your customers can conveniently continue shopping after completing the chat.
Since the service employees can process several chats simultaneously, the waiting times are shorter than with other channels. A case study of Virgin Airlines has shown that a single chat agent can do the work of 15 agents who focus on answering e-mail inquiries.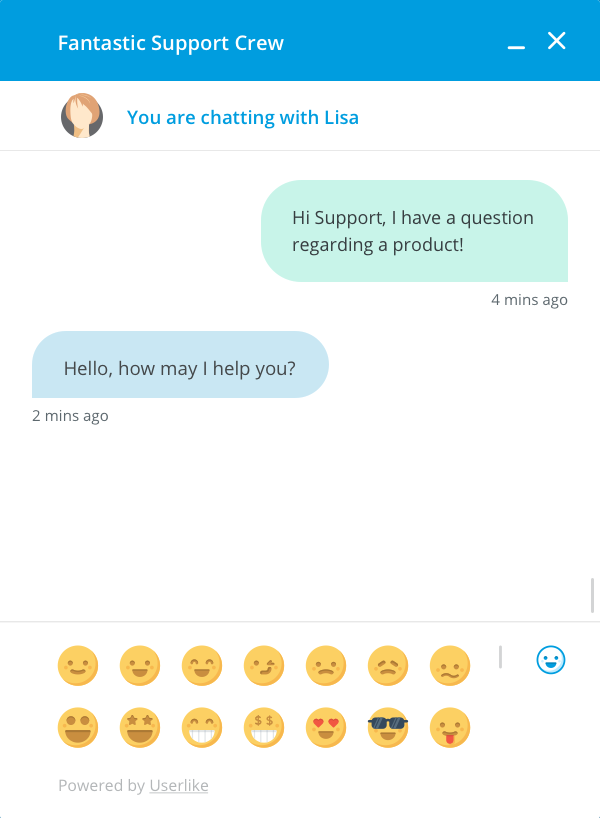 Live chat enables your shop to have give shoppers a personal touch when they have questions.
Some customers simply do not want to talk to support. They want to find the answer themselves. Therefore, your website should always contain an overview of the most frequently asked questions (FAQs).
Tools like OMQ can even make them interactive. Your customer can type in their request and receive immediate response suggestions based on the keywords they use.
How?
Be there for your customers when they need you. Also, proactively offer help to them.

Stay authentic, especially with support. For example, in live chat, it's best to use the real names and profile photos of your service staff. Your customers notice the difference - and nobody likes to talk with a logo. You should look at these customer contact requests as an opportunity to build a personal connection with your customers.

Chatbots can step in if you do not have enough people to constantly fill the live chat. Userlike Chat Butler can accept chats if no human agents are available. With tools like this, no chat will ever get lost again.
Make sure chat bots are easily recognisable as such by your customers.
5. Create trust
Recently, I began searching for accommodations for my next holiday. It came down to two locations: one had great photos but no reviews yet. The other one had some (not quite as nice) images, but plenty of positive reviews. Which one did I choose in the end?
The one with many reviews, of course.
If 384 people said that this apartment is great, it simply has to be, right?
My behaviour is not an isolated case, but can be classified in the psychological concept of the "social proof".
We are social beings, direct descendants of those whose existence depended on imitating the behaviour of the group. If everyone on a mammoth hunt suddenly ducked, it was better to duck oneself quickly as well. Individualistic behaviour had fatal consequences.
Even if we no longer hunt together today, this imitative behaviour is still strongly anchored in us. When you walk in the park and see a cluster of people looking up into the sky, I'd be willing to bet that you would probably look up as well.
You can also make use of this phenomenon in the world of e-commerce!
How?
Customer reviews: Shoppers trust other shoppers more than any marketing text. Both product reviews and shop reviews can benefit your organic and paid traffic, especially if you make your star-ratings visible in the search engine results pages (SERPs).

Testimonials: Present a selection of your clients on your website. Above all, well-known brands can give you some credibility and authority. If big brands can trust you, so can your site's visitors.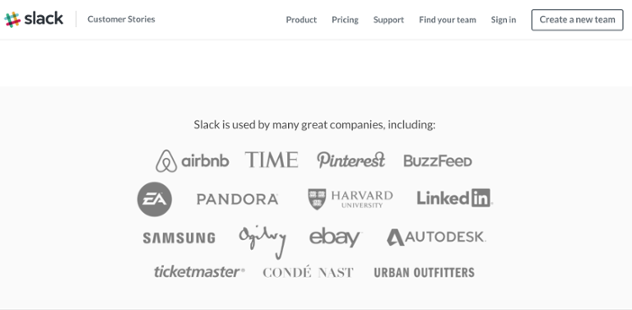 Case studies: These are even better than a list of your clients. A good case study can tell potential customers how your product helped others achieve their goals while highlighting your products' benefits.

Trustmark: There are many uncertainties in e-commerce, especially with regard to financial risks. Tested trustmarks show visitors whether they are dealing with a reputable dealer at glance, and thus increase confidence in the online shop.
---
Userlike provides live web and mobile support chat so you can help your customers when it matters and where it matters.