So, you're a small business owner who wants to promote your business during Easter. Perhaps you don't sell chocolate, but you may want to remind your client base that it's the new shopping season. Remind them that spring is in the air, birds are tweeting, and that summer is just around the corner.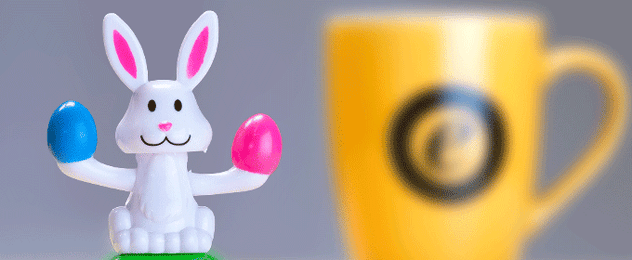 You're probably not one of the big players out there who can spend a lot of money on wacky marketing ideas. Huge, over-the-top campaigns like Cadbury's giant chocolate Facebook thumbs-up or Whiska's "Easter Cat's Campaign" app don't quite fit your marketing budget.
What can you, as a small business owner, do that will have an impact?
Give your newsletters a touch of Easter flair
You probably don't need to be reminded that your most valuable customers are the loyal ones. If you send out a newsletter, this is a great opportunity to promote whatever it is that you're promoting. Are you promoting a special Easter product or a sale? Highlight it at the top of the email!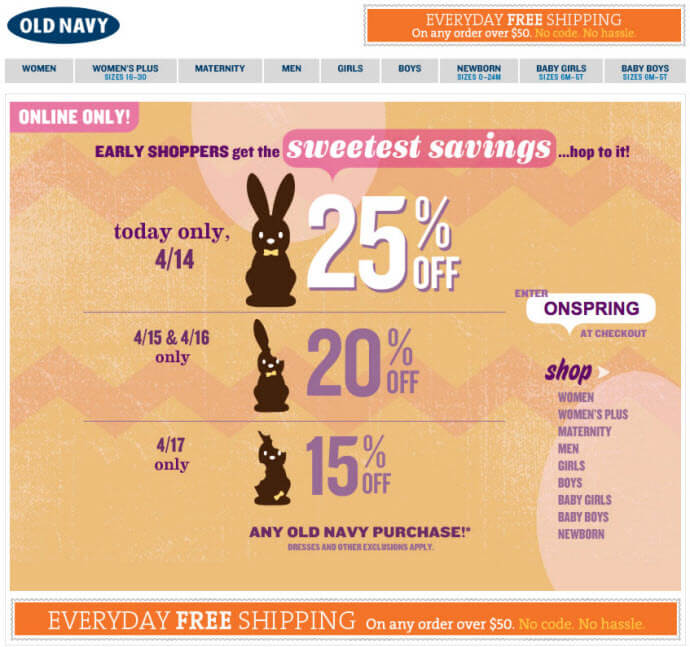 The American clothing brand, Old Navy, gives their customers plenty of chances to save money with their sales, but they also add some urgency. (Source: Old Navy)
If you're not selling a special product, then make sure you at least "decorate" your email appropriately. A newsletter with an Easter motif can really remind your customers that they need to start thinking about the holiday because it's coming up soon. This alone could be the inspiration they need to start shopping (with you!).
Depending on the software you use to manage your email campaigns, you can find plug-ins at the provider's website or go to third-party developers. With Magento, for example, many third-party developers provide creative and fairly-priced options, so check out what is available to you!
Tweak your website
The same concept can work for your website as well. During any big holiday, your service provider will most likely offer some plug-ins for your website. Adding a little extra flair can really put your customers in a shopping mood.
Something as simple as adding some Easter-themed photos or a header image can really make a difference and inspire your customers to shop.
Create an online Easter egg hunt
Taking it a step further, you could even create an Easter egg hunt on your website. This is a clever way to offer a discount to your customers. Even smarter is the fact that customers will have to scan through your entire website to find them and check out certain pages that they might not have visited otherwise.
Once they find all the eggs, they'll be redirected to a page providing a discount code.
Combined with your Easter-themed newsletter, your traffic (and conversions) are sure to rise. Simple plug-ins from Wordpress are generally inexpensive and usually fairly easy to integrate.
Synchronise your social media campaigns
Well, well, well. Now it's starting to look a proper campaign! And what's a good campaign without social media? Simply put, try to synchronise your social media pages and posts to fit the look and feel of your website and newsletter.
If the Easter egg hunt wasn't easy to integrate onto your website, an easier option would be to place them in your social media posts.
Don't forget to regularly remind your followers of the contest. This will get them to regularly check your posts.
Also, get some nice photos (with people, if possible) of the products that you want to promote. Use your hashtags, mention any sales, coupon codes, or anything else that you think is relevant. A great social media campaign has some personality to it, so don't be afraid to be creative and have a little fun!
Run a contest
Social media is special because it really is the only way that your customers (and potential customers) can interact with the company directly and publicly. That is why running a contest could be a great way to inspire action from your target group.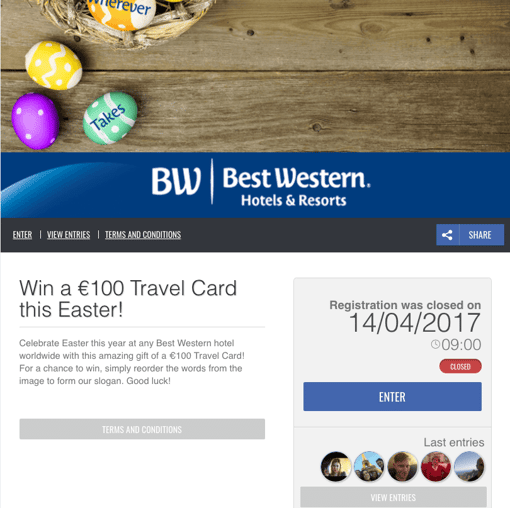 Best Western Hotels and Resorts was giving away travel cards for the Easter holiday.
Whether it's an Easter egg hunt, a selfie contest, or a "write a caption to this photo" competition, this can really build a connection between the company and the public. Just don't forget to promote (organically and with paid ads) this contest in all of the above-mentioned mediums. This might even get you some new followers.
Run paid ads
To go along with social media, you might want to consider running some paid ads, which could work really well. You can target the consumers precisely while also focusing on a campaign theme (like Easter!).
Create the ad, set your budget, and check out how they perform regularly. You should even consider running multiple ads at the same time to test which ones are getting the most clicks (known as "A/B tests"). Then adjust, adjust, and adjust some more. This strategy can and should be used outside of the holiday season as well.
Conclusion
There are a lot of ways that you, as a small business owner, can promote your online shop during the busy shopping seasons. It's important to plan ahead and start promotions and "holiday awareness" campaigns a few weeks in advance. A couple small tweaks to your site, combined with a good social media campaign, and a bit of fun can get your shop the extra attention that you want without too much money or effort.