Shopping online. Easy. Secure.
We enjoy shopping online and love opening parcels when they arrive. Where we shop depends on where we place our trust. This trust begins where security ends - and that's a different place for every online shopper. The products from Trusted Shops are the byword for real security, offer clear guidance and represent valuable decision-making aids in e‑commerce.
We too used to get nervous when deliveries are delayed and wondered whether the ordered goods would actually arrive. We too have spent a lot of time filling a shopping basket only to not ultimately place an order. We too have returned goods and hoped that we would get our money back.
We – that's lawyers, customer service advisers, and IT specialists – are people who develop solutions for precisely these tasks. We want online shoppers not to have to worry before, during or after a purchase and instead to simply look forward to getting their parcels.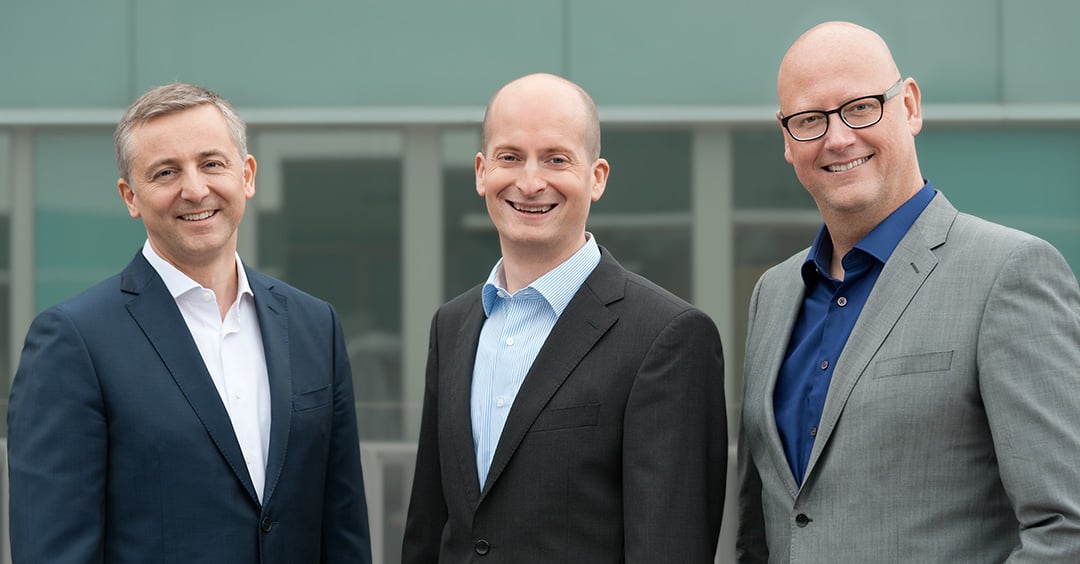 We build Trust.
It was back in 1999 that Jean-Marc Noël, Ulrich Hafenbradl and Thomas Karst first offered their promise of increased security for online shopping – the Trusted Shops Guarantee.
The Trusted Shops trustmark, a combination of a comprehensive audit by legal experts, solution-oriented customer service and financial protection, designates trustworthy shops. While consumers can sit back and wait for their delivery, online retailers can enjoy the satisfaction of fewer abandoned purchases and more customers.
With the Trusted Shops customer reviews, it has been possible since 2008 to award stars for delivery, the condition of the goods and customer service. Customers can also leave a comment to report on the experience they've had when shopping. In this way, consumers provide each other with guidance and give online retailers the opportunity to continuously improve. A consistently good rating is the best advertisement for your shop.
We want variety and choice.
Whether a shop is based just around the corner or elsewhere in Europe is not important – what matters is whether you as a shopper can trust it. As a trust brand, we see our role as ensuring variety. Consumers should be able to decide for themselves whether they buy from a large corporation or a small company. This is why our products are also available throughout Europe, why we work according to European data protection standards, why we offer our customer service in numerous languages, and why our lawyers are also experts in legal matters concerning international e-commerce. Give it a shot! If you have any questions you can reach us in between 9am and 6pm on the telephone number 0203 364 5906.
Full responsibility.
Our ambition to bring about greater security in e‑commerce is reflected in our products and is the byword for responsibility: Responsibility for online retailers and their employees, who can be confident that our solutions only single out genuinely secure shops and that we can identify the others as quickly as possible; responsibility for consumers and their personal data, which we need, for instance, to protect their purchases.
With our certification, we ensure that shops also observe European data protection standards and only recommend tools for the analysis of user behaviour that do not make it possible to identify specific people. As a European trust mark in e‑commerce we see it as our duty not only to observe but also to advance the cause of data protection.